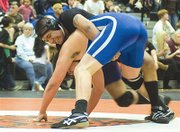 ZILLAH - The odds were stacked against Mabton's Brandon Marquez this past Saturday.
The 160-lb. Viking wrestler had been sick all week and made it to just one practice.
During the 1A Regional wrestling tourney in Zillah, he was pinned in his first match and in a loser-out match he eked out a 10-7 win over Ki-Be's Josue Lucatero.
That put him in a loser-out, winner-to-state battle against Goldendale's Wade Gaston, who thumped Marquez 10-1 a week earlier. "We weren't holding out much hope for Brandon," said Mabton Coach John Kilian.
Marquez stunned the field, though, in outpointing Gaston 5-2 and punching his ticket to State.
"Brandon's our miracle worker," Kilian chuckled. "He just went after it."
Marquez lost the third/ fourth place match by an 11-3 major decision to Columbia-Burbank's Zach Grimm.
But the die is cast, and Marquez is one of three Mabton grapplers who qualified for the big dance at the Tacoma Dome this coming Friday and Saturday.
The top Viking qualifier was Fabian Ruiz (152 lbs.), who claimed second-place honors when he reached the championship final before getting outpointed 5-2 by Granger's Omar Isiordia.
Mabton's other qualifier was Vicente Mireles (126 lbs.), who claimed third-place honors when he defeated Zillah's Angel Rodriguez 9-3 in the third/fourth place contest.
Mireles punched his ticket to that match, and to State, by pinning Wahluke's Vic Sandoval in 3:45.
Mabton's Eric Huesca (220 lbs.) claimed a fifth-place medal at Regionals, which sends him to Tacoma as an alternate. He will compete if one of the 1A State qualifiers in his weight class is injured and unable to compete.
Huesca captured fifth-place honors with a pin in just 1:29 over Connell's Jose Valdovinos.
Kilian says Huesca could have had much more, including a State berth.
"He was ahead 10-1 in the match to go to State but he got pinned with 25 seconds left," the coach said of Huesca's loss to Wahluke's Alberto Cruz in a bid to reach the third/fourth place match.
That defeat, Kilian added, was a stunner much like Marquez's State-placing victory.
"I guess it's postseason magic," Kilian said. "Some of it's good and some of it's bad."
The Vikes are hoping for good things this Friday and Saturday at the Tacoma Dome's Mat Classic, where the 1A and all other State wrestling matches will be held.
"Half of the people in the field (eight out of 16 qualifiers in each weight class) bring home medals, so it's certainly doable," Kilian said of his wrestlers bringing home State hardware.
While Marquez is a surprise qualifier, Mabton's best hopes for a State medal are with Ruiz, the only Viking medalist returning to Tacoma. He was sixth last year.
As a team, Mabton placed 10th at Regionals with 51 points. Host Zillah claimed the team title with 209 points followed by Granger at 173 points.