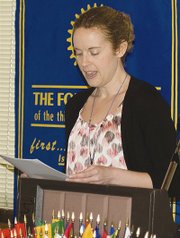 Happily married men tend to live longer than single men or men in unhappy marriages, according to Angela Waymire of Comprehensive Mental Health in Sunnyside.
Despite the joke that it just seems like longer, the health benefits to love are real. And in a presentation to Sunnyside's Noon Rotary Club on Monday, Waymire gave an overview of how emotion can impact lives.
Waymire uses cognitive behavior therapy to treat people who are suffering from a variety of mental issues, including depression. A way to visualize her therapy is as a triangle with "thoughts," "events" and "emotions" at the points.
She asked her audience to imagine a person entering a grocery store and meeting a friend leaving the store, who ignores the person. The event is being ignored by a friend.
Next up are thoughts to explain the event. The person may think he is being intentionally snubbed or he might think there is something wrong with his friend.
Emotion springs from the direction of the thoughts. Thoughts of being snubbed may lead to anger or other negative emotions. Thoughts of a friend in need may lead to compassion or concern.
Those emotions will then lead to further action, such as ending the friendship due to being snubbed or running after the friend to offer assistance.
Waymire concentrates on helping people learn to change what thoughts occur to them first, which leads to healthier emotions and to healthier reactions in turn.
She admitted that when she told her boss that she'd been asked to give a presentation on love, he laughed and told her, "we don't deal with healthy love."
In order to drive home the health benefits of love, Waymire gave examples of the negatives that she's seen in people who have trouble with love. Among the issues were heart problems, high blood pressure, cancer and pain. She said that studies suggest that those health problems don't occur as often when people have love in their lives.
Waymire also mentioned the positive effects of dopamine, and how people in stable and loving relationships tend to have a good supply of the chemical, which is part of the brain's reward system.
When asked to sum up what people can do to gain the best benefit from love as an emotion, Waymire struggled to reach the essential core of what she does.
"I would say to practice being aware of where your thoughts are coming from," she finally said. "Everything else springs from there."