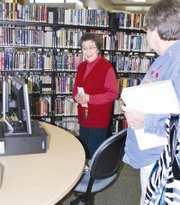 GRANDVIEW - The Lower Yakima Valley unit of the Washington State School Retirees Association Tuesday received a tour of the newly constructed Grandview Library.
The retired educators were led on the tour by Library Director Elizabeth Jahnke, who said the 16,000 square foot facility is a great improvement from the former library.
"Everything is new...we are still learning about features we didn't know we had," she said.
The Grandview Library was constructed in partnership between Yakima Valley Community College and the city of Grandview.
Jahnke explained the city pays for the staffing and public library needs, while the college owns the facility and provided the equipment.
"People are still getting used to the fact that there is a real library here," she told the retired educators, stating new patrons discover the library on a daily basis.
Jahnke said the library hours are scheduled to accommodate both the public and students of Yakima Valley Community College's Grandview campus. Those hours include being open on Saturdays.
The library, she said, has a number of special collections and more than 8,000 books can be found on the shelves.
"One special collection is the Blanche Cook art library," Jahnke said.
She explained Blanche Cook collected a large library of books and some artwork. Cook also provided funding that was placed in a trust fund for adding to the collection of books.
"There's a small Spanish collection of books," Jahnke said, stating her intent is to expand upon the reading materials offered for Spanish-speaking patrons.
The Grandview Library also has collections of DVDs, books on CD and videos.
There are 23 computers located at the library and each can be accessed with a user password.
Jahnke said she is also researching the possibility of providing patrons with the option of reading e-books via the state library system.