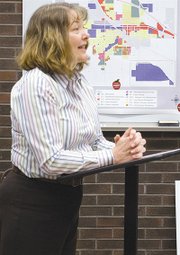 GRANDVIEW - As a result of assessments completed in Grandview by the Yakima Health District and the Department of Health's Healthy Communities program, funding for safe school routes will be sought.
That's according to Yakima Health District's Sheryl DiPietro and Yakima Valley Conference of Governments Senior Community Planner Shawn Conrad.
The two presented to the Grandview City Council the results of a study completed through the Healthy Communities and ACHIEVE (Action Communities for Health, Innovation and EnVironmental changE) funding last year.
DiPietro said the assessments completed in the study show a need for the promotion of physical activity and healthy food options in the community. That's why they this year will work with the schools to seek funding for safer walkways and streets via a Safe Routes to School grant.
Safer walkways and streets, said the duo, will provide children the ability to walk or ride their bicycles to and from school.
To help promote healthy lifestyles, she said strategies have been developed.
To address the need for promoting healthy eating habits, strategies have also been developed.
"We can provide access to healthy foods through the promotion of local food systems like a farmers market or community garden," said DiPietro.
Because the current grant used for the assessments is a two-year grant, she and Conrad have worked with the Grandview School District to develop a plan to improve streets within a two-mile radius of Grandview Middle School.
The plan includes developing a pathway from the school to Wallace Way, providing students in the Grandview schools and residents in the community a route to the Grandview Community Center.
DiPietro said the pathway would be an avenue for providing the community opportunities to walk or ride bicycles more often.
Conrad said the Safe Routes to School grant application deadline is March 1.
She plans to apply for grant funding to help improve routes around the schools in the community, specifically using the middle school as the central location.
There will be a training session in Grandview for community members wishing to get involved in the safe routes to school program. That session is set for Thursday, March 8, at the Grandview Library from 11:30 a.m. to 4:30 p.m. The training is free and lunch will be provided.
DiPietro said, "The health district can work with the schools."
Conrad said the safe routes funding specifically targets school routes and is intended to provide children in the community with safe walkways and streets for traveling to and from school.
The goals of the ACHIEVE and Healthy Communities program is to implement an action plan, said DiPietro.
That action plan includes working toward the goal of providing safe school routes, increasing policies that support access to healthy foods, promoting and supporting complete streets for all ages to access for physical activity, promoting nutritional standards for foods and beverages in city and school settings, and developing and supporting healthy food systems.