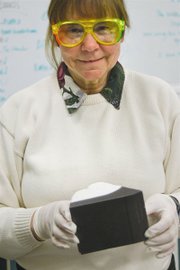 When NASA decommissioned its space shuttles two years ago, Sunnyside High School teacher Joyce Stark took the chance to acquire a tile.
When an object re-enters earth's atmosphere, says Stark, it undergoes extreme heat. NASA created "tiles" to protect the craft from the heat and return it safely home.
When presenting tiles to students, Stark says they learn all about how the tiles are made and how it protects the spacecraft.
The tiles are part of the shuttle's "thermal protection system," and protect the aluminum craft from temperatures that reach as high as 3,000 degrees, according to NASA.
There are three types of tiles which protect at different temperatures and are strategically placed on the craft.
The tiles are a silica-fiber compound, according to NASA, which re-radiates the heat and forms a thermal barrier to ensure that the spacecraft's aluminum structure is not subjected to temperatures above 350 degrees.
Several years ago, when Stark was teaching at Sunnyside's Harrison Middle School, she acquired the first of a few tiles in her collection.
The tiles she acquired in 2000 were used to demonstrate to earth science students the extreme heat the tiles could withstand.
"If you hold a torch to these (tiles), then remove it, it's cool enough that you can touch it," she added.
In 2010, NASA decommissioned its space shuttles in order to use a different space travel technology. Stark applied to get another tile, but this time, it's much larger and "worth more," she said.
The smaller tiles are valued at $10 each, but the larger one, "It's a much nicer piece," says Stark, is valued at $1,000.
Stark says she plans to invite Sunnyside's Bonnie Dunbar back to SHS to speak with students about her career and to demonstrate how the tiles work. In addition, after the remodeling construction at SHS is complete and the bronze statue of Dunbar is underway, the fourth such statute the community has commissioned to honor local pioneers, Stark plans to display the larger tile with the statue.