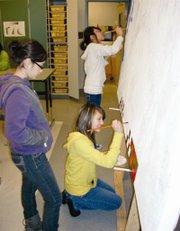 With a busy high school senior and Running Start student schedule, Vanessa Osorio wanted her senior project to reflect her passion: art.
Of all the artistic mediums, Osorio's love is painting.
The SHS student wanted her senior project to tell the story of the importance of art, while also passing her skills and passion on to the next generation.
She began a discussion with her YVCC art instructor, Bruce Lindell, about how she could incorporate her passion for art into a project that completed her goals of spreading the importance of art.
Lindell, who also teaches art at Sunnyside's Harrison Middle School, agreed to mentor Osorio with her senior project. But Osorio wanted to take her project to the next level.
"I wanted my project to involve art, but I didn't want to be the one doing the art," she added.
Osorio decided she wanted to mentor students on painting a mural. Seventh graders in Lindell's art class began the process of designing a mural; the goal was to complete a design that represented Harrison Middle School.
After several steps, including incorporating Harrison's new school motto, "There's no comparison to Harrison," the students turned in first and second drafts of the project. Once the creative process was underway, Osorio and Lindell began reviewing the submissions and chose three designs to incorporate into a mural.
Designs from Javier Ramirez, Jesus Walle and Guadalupe Lopez were chosen for the mural.
Then the students and their mentors began brainstorming how to combine the best aspects of each design into one mural.
"Vanessa taught the students creative thinking and problem solving," Lindell said. "That's what the mural was."
Students, along with Osorio and Lindell began tweaking the designs to incorporate a 4-foot by 8-foot mural.
Once the design was set, nearly 13 students worked on painting the design.
"It was 98 percent of the kids' work," Lindell added.
But Osorio helped the students with painting techniques and did touch-ups on the finished product.
The mural now hangs in the entryway at Harrison Middle School.
Lindell says he's proud of Osorio and his students.
"It's like watching your children and grandchildren learn and grow," he added.
Though through the project Osorio's goal was to inspire students; Lindell was also inspired.
For the last few years Lindell says he's been thinking about incorporating mural artwork in his classroom at Harrison. But through Osorio's project, he's decided to take on that goal full-force.
"Vanessa's project was the spark that (got) me to finally incorporate the idea," he added.