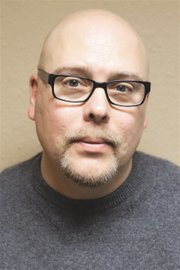 YAKIMA - David Peterson, a network operations manager for the Sunnyside School District, was named Educational Service District 105 Regional Classified School Employee of the Year for 2012.
Peterson was presented the award before a gathering of the region's school superintendents at ESD 105 in Yakima this morning (Thursday).
The award recognizes the excellent service that paraprofessionals, custodians, secretaries, cooks, payroll officers, bus drivers and other classified staff provide to public schools.
Candidates are reviewed for their contributions in helping improve student achievement, their leadership and collaboration, and their overall outstanding work performance for the school community. This is the third year for the ESD 105 regional award.
Peterson will now serve as one of nine candidates from throughout the state - one chosen by each regional ESD - who will vie for the title of the 2012 Washington State Classified School Employee of the Year. The statewide award will be announced by OSPI during a special reception in Olympia that will be scheduled for later this spring.
Peterson joined the Sunnyside School District as a systems administrator in 2006 and has served the district's employees and students as a network operations manager since 2009. His current duties involve providing server and desktop support for student computer labs and for staff computer equipment.
Colleagues laud Peterson for his instrumental roles in creating a unified student handbook for electronic distribution, assisting student access to education sites by helping rewrite the school district's internet use policy, standardizing school employees' professional development offerings in technology and assisting teachers with student achievement data. He also helped educators order and integrate instructional use for 30 iPads and 30 iPod touch devices now in the district's elementary and special education classrooms.
Outside of his regular work duties, Peterson offered several volunteer hours providing infrastructure expertise last summer with the high school construction team's building renovation project.
Co-workers also cite Peterson for being an integral part in developing and deploying technical support for classroom curriculum guides that are used to help teach literacy, math, science and fine arts.
Harrison Middle School Principal Robert Bowman wrote in his recommendation letter, "The implementation of these curriculum guides are, we believe, one of the key components to our significantly higher scores across the board in mathematics, especially at the middle school, where our seventh grade results were higher than the state average."
The principal also commended Peterson's overall skill in being able to both establish and clearly communicate computer material policies for the school district.
Bowman said, "Often times, policy can be mired in rhetoric and opinion. Dave has been able to successfully navigate these to create a simple and clear policy that's been communicated and received well. This work has led to a stronger cohesion between our community and the schools."
Nic Olinsky, director of information and technology for the Sunnyside School District, wrote, "David heartily embraces the idea that, as educators, we must not only teach our students the 21st century skills needed to become productive citizens, but also give all staff the tools and training to effectively and efficiently use technology in the goal of helping all students achieve and succeed."
Peterson wrote in his application materials, "The real highlight is that, over the last six years, I've been fortunate to be part of a team that has built a technical toolbox that keeps the latest technology in the hands of our educators, staff and students."