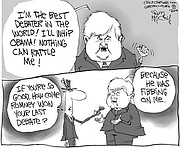 What role should debates have in political campaigning? That's the question being raised by this Republican presidential primary season.
There's no question that debates have some value. Structured properly, they make a candidate put forth his or her ideas and give us a glimpse of how they behave under pressure.
But there can be too much of a good thing. Preparing for many debates cuts hugely into the time a candidate spends with actual voters (rather than the media who control the debates), listening to their concerns, taking the temperature of the electorate, deepening the campaign's message and building its organization and outreach.
More fundamentally, it's worth asking whether debates give voters the information they need to make discriminating choices. Debates tend to harden candidates' positions, rewarding indignation and forcefully stated convictions. They show us nothing of a candidate's ability to work toward common ground with people who disagree - which is, of course, the essence of governing.
Debates do not test important qualities: the ability to build consensus, to work with people of differing opinions and backgrounds, to make sound judgments about what's best for the country, to sort through complex issues and arrive at proposals that move the nation forward. These are qualities that voters can gauge only by seeing candidates in action on the stump, by hearing them explain in depth how they would approach our big challenges, and by watching them as they encounter people from all walks of life.
Televised debates are a part of the modern campaign. They seem to be popular with voters and are undoubtedly good theater. But we should not mistake them for the best way to get information to the discriminating voter.
- Lee H. Hamilton, a member of the U.S. House of Representatives for 34 years, is director of the Center on Congress at Indiana University.
More like this story