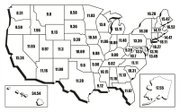 Energy costs have been steadily on the rise in the United States, but Washington state remains one of the least expensive energy states in the nation.
Residential customers in Washington spend an average of 8.31 cents per kilowatt-hour compared to a national average of 11.82 cents, according to U.S. Energy Information Administration's 2011 preliminary data.
The only state with a lower average is Idaho, whose residents pay an average of 7.96 cents per kwh.
The energy administration predicts natural gas and renewable energy usage will increase, while coal resources are expected to decrease.
The usage of natural gas in electric power generation is forecasted to increase, on a national level, from 24 percent in 2010 to 27 percent by 2035. In addition, energy administrators say renewable energy will grow from 10 percent to 16 percent through the same time period.
In the next 25 years coal-generated electricity, however, is expected to fall to 39 percent, which is well below the 49 percent share that was seen in 2007.
The energy administration released a statement last month stating coal-generated electricity is expected to drop "because of slow growth in electricity demand, continued competition from natural gas and renewable plants and the need to comply with new environment regulations."
U.S. Energy Information Administration Acting Administrator Howard Gruenspecht said energy-related carbon dioxide emissions will remain lower through 2035 than was tallied in 2005.
"These projections reflect increased energy efficiency throughout the economy, updated assessments of energy technologies and domestic energy resources, the influence of evolving consumer preferences and projected slow economic growth," Gruenspecht added.
For Washington state residents, the news is good. The state already gets most of its electricity from hydroelectric power and only has one coal-fired plant in operation. Increased use of wind power and other renewable resources have also contributed to a stable supply of energy in the state.
Non-hydroelectric renewable energy sources contribute nearly 3 percent of Washington's total electricity generation, and in November 2006, Washington legislators adopted a renewable energy standard that requires all utilities that serve at least 25,000 people to produce 15 percent of the energy provided to its citizens from renewable resources. Also, legislation enacted in May 2011 requires the state's only coal-fired plant to be completely shut down by 2025.
Energy prices have escalated only slightly through recent years in Washington state. With a stable supply of non-coal energy, Washington state energy prices are predicted to remain among the lowest in the nation.