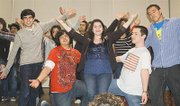 Sunnyside High School drama students are at it again. Their coming production features aspiring thespians adding a flair for clogging along with goodwill towards orphans.
A Wizard of Oz production is set to begin next Friday, Feb. 24.
This year, the late winter performance is double-casted because of numerous talented group members, says Corey Murphy, the SHS drama director.
"This is a special year," he added. "I'm excited to have enough talent to fill out two casts."
Leading the charge for cast A is senior Abbagail Gomez, who is cast as Dorothy.
"I've been waiting for this role since I was six," the SHS Drama Club president said.
Playing Dorothy in cast B is junior Kayla Rodriguez, who is featured in her very first lead role.
"I've never had so many lines before," she said. "But the cast is easy to work with."
The two casts will be featured in five performances each, which include the nightly performances along with a show for five Sunnyside area elementary schools. The high school auditorium will be full of elementary students beginning next week.
From lighting, to acting, to set design, Murphy says this production is by far one of the most technical tasks he and the group have taken on.
"The show is a lot like the movie," he said. "So people will have certain expectations of what the show should be, and we are working hard to meet and exceed those expectations."
According to Murphy, Thursday performances have historically marked low attendance. So Gomez came up with an idea to hopefully fill the seats in the SHS auditorium, by offering free admission with a Ruby Slipper Drive on Thursday, March 1.
The free admission comes with a donation of new or gently used pairs of shoes that will be donated to the Treehouse Organization's Wearhouse in the Seattle area, that provides foster children with clothing and other essentials.
Gomez, who gleaned the idea from another performance she attended, says the drive is a way to give back, and focusing on shoe donations ties the fundraiser to the show's theme with Dorothy's red slippers.
A few students will also be showing off their clogging skills, and the efforts were applauded by assistant director Felicia Abbott.
"The scene called for tap dancing," said Abbot. "We don't know anyone who knows how to tap."
After reviewing the music, Abbott agreed that clogging would fit well into the performance.
Performances for the public are scheduled for Friday, Feb. 24, Saturday Feb, 25, and Thursday, Friday and Saturday, March 1, 2 and 3. All shows begin at 7 p.m., and admission is $6 for adults and $4 for senior citizens and students.