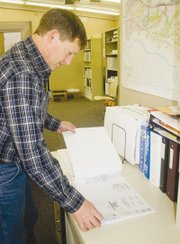 An employee for Sunnyside Valley Irrigation District the past nine years, Ron Cowin will soon mark his first anniversary as the district's assistant manager in charge of engineering projects.
Cowin was promoted to the post last April when longtime Assistant Manager Don Schramm retired.
Cowin, who works in SVID's new field office on Yakima Valley Highway in Sunnyside, started with the district as an engineer tech before advancing to become an engineering supervisor.
His path to becoming an engineer was a local one, as he completed a program at YVCC, then received his accreditation during years of on the job experience at SVID.
SVID is certainly experiencing a spurt in engineering and construction, with the Sunnyside Canal Improvement Project set to wrap up next year.
That project started in 2004 and, when completed, will provide automation for canal check structures and storage capacity. "Before we had to spill excess water, now we'll be able to store it," Cowin said.
The project, as well as another ongoing effort to pipe several canals in the district, have been a challenge. Cowin says federal stimulus funding required a ramped up timeline for completion.
"As an engineer you like to have more time to plan a project," he said.
One of the big priorities for his job now is wrapping up work on the ground in the district as on March 20 SVID will start the priming process to deliver irrigation water to landowners.
"We have to work with the crews and make sure we have projects done before priming," Cowin said.
While the calendar will soon turn to March and another irrigating year, Cowin is also aware next month might bring changes to SVID in the form of merging with the Grandview Irrgation District.
Land owners in the Grandview Irrigation District will vote on the merger proposal on March 1 and, if approved, Cowin says that will mean nearly 4,000 more acres SVID will oversee.
If that happens, Cowin says SVID will work with those in the Grandview district to assess projects that need to be completed there. That will, in turn, require more planning efforts for SVID's engineers.
But he takes it all in stride.
In fact, Cowin says, the best part of his work is seeing engineering plans hit the ground.
"It's always fun to see a job come to completion," he smiles.