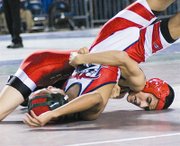 TACOMA - One of Sunnyside's goals at the WIAA 3A State wrestling tournament in Tacoma this past weekend was to return home with a 'Top 10' finish.
Mission accomplished! The Grizzlies, with five of their six wrestlers earning placing medals, clipped Timberline by half a point to secure the 10th spot in the team standings.
Looking back Sunday evening at what transpired the two previous days, though, had SHS Coach George Paulus wondering what might have been. He said the team always shoots for a 'Top 10' finish at State, but in the back of everyone's minds is the space reserved in the Grizzly gym that displays all of Sunnyside's eighth-place or better finishes at State.
The 'what if' mentality stems from the Grizzlies failing to pick up a single team point in the medal placing rounds.
"We got five of our six wrestlers into the medal rounds, but we came away empty handed," said Paulus, who ironically was named Washington state's class 3A coach of the year during a special awards presentation in the Tacoma Dome this past weekend. This year was the fifth time Paulus had been nominated for the prestigious award.
One, possibly two victories in the medal placing rounds could have easily vaulted Sunnyside into the eighth-place spot in the team standings. Instead, Decatur High School grabbed the No. 8 finish, accumulating only three more team points than what the Grizzlies ended up with.
This year's 3A team champion, with 126 points, proved to be powerhouse Enumclaw. Yelm was a close second with 104 points. The third through 10th place finishers included Bonney Lake (85), Shadle Park (75), Kelso (70.5), Sedro Woolley (69), Mercer Island (59), Decatur (58.5), University (58) and Sunnyside (55.5).
Paulus, however, isn't lamenting the fact his team came up just a few points short of earning a spot on the wall in the SHS Grizzly gymnasium. After all, this year's Grizzlies went undefeated in Columbia Basin Big Nine League play to win the conference crown, easily beat back the competition to claim the CBBN District title and then secured Sunnyside's first Regional tournament championship since 1996.
The six Grizzlies who advanced to Tacoma to compete in the boys State wrestling tourney were Jesse Barajas, Santos Guerrero, Nathan Gonzalez, Sam Romero, Miguel Guzman and Austin Carman. And to Sunnyside's good fortune, four of the six are underclassmen and are eligible for return trips to State.
106 lbs.
Only a sophomore but now already a two-time veteran of the Tacoma Dome, Barajas didn't disappoint. He improved upon his fourth-place finish at State as a freshman by claiming runner-up honors this year, Sunnyside's top individual finish in 2012.
Barajas won three consecutive matches, one by pin, to advance to Saturday night's finals, where he was matched up against one of the state's premier up-and-coming freshmen, Darren Harris of Yelm.
The title bout between the two was nip-and-tuck throughout, as they fought to a 6-6 stand-off through the first two periods.
Harris chose the down position to open the third period, and quickly forged a two-point lead on Barajas by scoring a reversal. While doing so he caught the Sunnyside sophomore's arm and leveraged it to roll Barajas onto his back. Harris kept himself planted on the Grizzly and with 57 seconds still remaining, got the slap to the mat by the referee, signaling a pin.
"It was just one of those deals where the Harris kid caught Jesse's arm and turned him," said Paulus.
"With Jesse being a sophomore and Harris only a freshman, you've got to think they might meet up again a few more times before it's over for both of them," he added.
Barajas opened the State tourney by making short work of Kendall Momom of Kennedy Catholic, pinning him in 53 seconds. In the quarter-finals, Barajas notched near falls in both the second and third periods enroute to a handy 10-4 victory over Luis Cardona of Marysville-Getchell.
The Sunnyside sophomore broke open what appeared as though could have been a tight match in the semi-finals by scoring a near fall against Dean Reginio of Timberline in the third period. That was enough to give Barajas a convincing 9-5 win, and the right to move on to the championship finals.
Although Barajas had to settle for second-place honors at State, Paulus said the sophomore made major strides this season, especially from a mental standpoint.
"He got over the hump mentally with the Wickham kid from Eastmont," said Paulus, explaining the Eastmont sophomore had Barajas' number as a freshman, but that this season the Grizzly bested the Wildcat when it counted in the postseason run towards the Tacoma Dome.
Paulus said Barajas and Wickham, who finished one spot behind the Grizzly at State this past weekend with third-place honors, will likely continue their rivalry for the next two years.
113 lbs.
Guerrero, a junior, took the long and treacherous route to earning a sixth-place finish at State. He was pinned in his opening match Friday morning by the No. 2 ranked wrestler at 113 lbs., sophomore Colton Tracy of Bonney Lake, who went on to place second behind Josh Newberg of Kelso.
That dumped Guerrero directly into the consolation bracket, where he was forced to win twice Friday afternoon and evening to make it to Saturday's medal rounds.
"After losing your opener at State, some kids go into the tank," said Paulus, explaining some youngsters step into the Tacoma Dome with only one thought on their mind, that of winning a State title. "After that's gone, some kids just give up and figure it's over.
"Santos didn't do that. He charged back hard," Paulus said.
The comeback began with Guerrero pinning Michael Wilkinson of Bainbridge Island. In Friday evening's must-win bout to advance to Saturday's medal rounds, Guerrero was nearly as dominating, notching a 15-0 technical fall against senior Buck Johnson of Sedro Woolley.
Showing no let-up, Guerrero started out Saturday morning where he left off Friday night. He took control from the outset against Abundio Victoriano of Kelso enroute to notching a 10-5 decision.
That win moved Guerrero into the bout that could have put him into the consolation finals. Facing Matt Iwicki of Eastside Catholic, a stringy, on the pale side grappler who by first appearances doesn't resemble much of a threat, Guerrero quickly learned that Iwicki had all the tools to get the job done. The Eastside Catholic wrestler eventually scored a fall, pinning Guerrero 11 seconds into the third period.
The loss sent Guerrero into the medal round for fifth and sixth place honors. Matched up against Jesus Escalona of Shorecrest, Guerrero took command early on, building leads of 4-0, 6-1 and 8-2. Opening the third period, Guerrero chose to start on his feet. Escalona took him down, though, and on the ensuing move Guerrero made a rookie mistake and got caught, flipped and rolled onto his back, pinned just 21 seconds into the round.
"Santos kind of gambled there and the way it turned out, he kind of beat himself," said Paulus.
126 lbs.
Not many wrestlers get to claim they've made four appearances at the State tournament, but the senior Gonzalez is now a member of that short list.
Second as a freshman, fourth as a sophomore, a non-placer as a junior, Gonzalez capped his prep career with a third medal, a fourth-place finish as a senior.
Gonzalez opened the 2012 event by registering a fall against Justin Phillips of O'Dea, that coming midway through the first period.
Next up was No. 4 ranked Nick Lindholm of Decatur. The third-ranked Gonzalez found the sledding tough, and in the end, a triple overtime affair, Lindholm prevailed by a 9-4 score. Ironically, Lindholm stumbled and lost his next three bouts, having to settle for sixth-place honors.
Gonzalez, sent packing to the consolation bracket, got by John Kim of Glacier Peak by a narrow 5-1 score, "...but Nathan wasn't his usual peppy self," said Paulus. "I think the loss to Lindholm took some of the spirit out of Nathan."
Perhaps revitalized with the victory over Kim, Gonzalez got recharged and quickly put away Zack Calkins of Lynnwood in his next match, scoring a pin just 15 seconds into the second period.
That advanced Gonzalez into the bout where a victory would move the Grizzly into the consolation finals. Unfortunately, Gonzalez had to face the highly regarded Jaren Hufford of Yelm. Up to the challenge, Gonzalez scored a pair of takedowns and a reversal to eke out a 6-2 decision.
"The Hufford kid is real strong," said Paulus. "Beating him, I'd have to say it was one of Nathan's best matches he wrestled, not just at State, but for the whole year."
Gonzalez ran into another buzz-saw in the consolation finals for third and fourth-place honors, in the likes of Cody Fakkema of Oak Harbor. The two grapplers were unable to gain any advantage against the other, ending the first period scoreless. Fakkema found an opening early in the second round, however, catching Gonzalez with an arm bar move that resulted in the Grizzly getting turned, and pinned.
"After taking that loss in the quarter-finals, for Nathan to win three in a row he had to battle back real hard. Some kids would have given up, he didn't. I give him a lot of credit," Paulus said.
160 lbs.
If there was a Cinderella story for the Grizzlies at State this year, it belonged to the junior Romero.
A first-year Sunnyside High School wrestler, he not only qualified for State, he managed to bring home an eighth-place medal. And, he accomplished the feat, despite having to go up against the eventual titlist and the No. 1 ranked wrestler in the state at 160 lbs.
Romero's opener Friday morning was against the eventual champ, Blake Johnson of Mercer Island, who pinned the Grizzly early in the second period.
Facing two loser-out matches Friday afternoon and evening, Romero rebounded with a convincing 14-3 victory over Andre Faciane of Hazen and an injury default win against Luke Arterbury of Mountain View. Arterbury, a ju-jitsu type wrestler adept at throwing his opponents, torqued his knee on one of his attempts to throw Romero across the mat and was unable to continue.
That win moved Romero into Saturday's medal rounds. Unfortunately for the Grizzly, his first match on day two was against the top ranked 160-pounder in the state, Hamilton Noel of Liberty High School, who got upset in the quarter-finals by Nick Karis of Decatur, who went on to finish second. Noel ended up with a decision against Romero, but the Grizzly wasn't conceding anything as he battled and ended up losing by just a 9-5 score.
The loss sent Romero into the medal round for seventh and eighth-place honors. There, he sustained a 15-0 technical fall loss to A.J. Brevick of Mt. Si.
"By the time Sam got to this match, he was pretty much done in," said Paulus. "Sam didn't get a favorable draw at State, but give him credit, he worked hard and won the ones he had to, to earn a medal."
195 lbs.
The senior Guzman compiled a 2-3 record at State, good enough to bring home an eighth-place medal.
Guzman edged past Gabe Torgerson of Sedro Woolley in his opener Friday morning, 3-1. In the quarter-finals, the Grizzly had to face T.J. Cormier of Enuclaw, the eventual third-place finisher. Cormier pinned Guzman at the 2:11 mark, sending the Grizzly into the consolation bracket.
Needing a win Friday evening in the loser-out match to advance to Saturday's medal rounds, Guzman came up big and scored a 4-2 decision against Tyler Mosier of Highline. Guzman tallied the winning points by putting Mosier in a cradle in the final period, a move he held for over a minute that sewed up the two-point margin of victory.
In his opening bout Saturday morning, Guzman couldn't get much of anything working against Joe Stoutt of Eastside Catholic. Guzman eventually fell by a 6-1 score.
The loss dropped Guzman into the match for seventh and eighth-place honors against a familiar foe, where he dropped a 9-4 decision to Shadle Park's Cameron Babcock, who defeated Guzman at Regionals the previous weekend.
220 lbs.
The sophomore Carman, making his first appearance at State, sustained an elbow injury in his opening match Friday morning. Despite stretching a ligament, he finished the bout and was able to stay relatively close against Kam Williams of Ferndale, only losing by a 10-4 score.
The medical staff at the Tacoma Dome iced down Carman's elbow following the loss. Carman insisted he was fine and could go in his next bout, but the doctor on staff informed him he would only clear the Grizzly if Carman could perform a push-up just prior to the opening whistle. Try as he might, Carman was unable to do so, and had to give up an injury default to Justin Russell of Hazen.
"Austin wanted to wrestle pretty badly, but there was no way we were going to let him go out there," said Paulus. "He's still got his junior and senior years ahead of him."