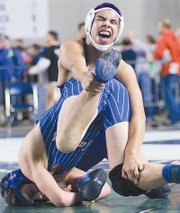 TACOMA - The Mabton Viking wrestling team took three athletes to the 1A State wrestling tourney this past Friday and Saturday, with two of them earning a top-eight finish at the Tacoma Dome.
Fabian Ruiz (152 lbs.) improved on last year's sixth-place medal at State by claiming fourth place honors on Saturday. Ruiz's path to the medal stand started with a 15-2 whipping of Nooksack's Tyler Warner on Friday, only to be pinned in his second match by Castle Rock's Levi Godinho.
The senior rallied with an 11-3 victory over Ilwaco's Tom Odneal to punch his ticket to Saturday's trophy round. There he bested Royal's Emilio Bustos 7-2, then advanced to the third/fourth place match with a 5-2 win over Chewelah's Russell Smith.
In the third/fourth place finale, Ruiz was pinned by Freeman's Taylor Glidewell.
The other Mabton Viking to medal was Vicente Mireles (126 lbs.), who earned a seventh-place finish. The junior overcame a 10-4 opening match loss to Lakeside's Klint Brown to win his next two and advance to Saturday's medal round. Mireles first pinned Kalama's Casey Heaton in 53 seconds, then held on for a 7-5 overtime win over Elma's Tyson Dick.
A 12-4 loss to Stevenson's Tyler Miller in his first match on Saturday placed Mireles in the seventh/eighth place match, where he bested Elma's Taylor Sample 7-3.
The third Viking wrestler, Brandon Marquez, lost two of three matches on Friday in the 160-lb. weight class and did not medal.
If not for a missing mouth guard, though, Marquez very likely would have made it three-for-three Vikes in the medal round.
Mabton Coach John Kilian explained that Marquez was up 7-4 in his first match on Friday against Nooksack's Jesse O'Bryan, when the official noticed the Viking sophomore wasn't wearing his mouth guard. "You're supposed to wear a mouth guard when you have braces," Kilian said. "He wears it every time, but he forgot to grab his mouth guard."
Upon noticing the missing mouth guard, the official gave Marquez and the Vikings injury time to locate it. When it couldn't be found before injury time expired, Marquez had to forfeit the match.
Marquez bounced back from the disappointment and outpointed Elma's Layne Sutton in the next match, 7-4. The Viking couldn't get to the medal round, though, as he was bested later on Friday by Columbia-Burbank's Zach Graham by a score of 13-0.
The effort by the three Viking grapplers helped the Mabton boys to a 26th place team finish with 21 points. Orting topped the field of 46 schools with 166 points, followed by Chelan at 135.5 and Zillah with 131.5 points.
Kilian was pleased with his squad's overall effort, noting that Mireles and Ruiz finished about where he thought they would.
Best of all, two of the three wrestlers will return to the Mabton program next year.
"That gives us a good nucleus coming back," said Kilian. "It's nice to have those kids who have been there and get that nervousness out of their system for that first time they're at State."