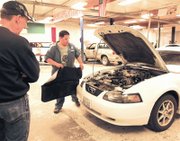 Aspiring automotive technicians from around the region rolled up their sleeves at Sunnyside High School earlier this month to show off their automotive maintenance skills.
Nearly eight students from Moses Lake, Yakima Valley Technical Skills Center and SHS competed at the Eastern Region Skills USA Contest for the highest honors. Students performed oil, battery and starter changes, alternator testing, tire mounting and balancing, using scan tools, safety checks and belt changes. In addition, competitors took a written test, to display their knowledge of automotive maintenance processes.
First place honors were awarded to Lissa Dowd, a student at YV Tech. Local judges also recognized two Sunnyside students, who placed fourth and fifth, respectively, Fabian Guerra and Taylor Schroder.
Area auto experts volunteering their time to judge the contest included Jeff Reihs, Spencer Martin, Mike Farmer and Larry Harmon.
Students earning top honors were awarded tool sets that were donated by area business owners. In addition, door prizes were distributed to each student who participated.