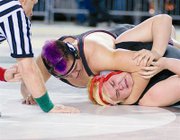 TACOMA - There were only two Greyhounds who wrestled this past weekend at the Tacoma Dome in the Mat Classic 2A State boys wrestling tournament, Martin Torres and David Castaneda.
Torres, who competes in the 285-lb. weight classification, earned fourth place honors after falling 5-3 to Jaime Miranda of Aberdeen in the consolation finals.
Grandview Coach Jeff Sevigny said the dual was tightly contested.
"In the third period Martin nearly scored on several occasions to win the match in regulation but just missed," said the coach.
Torres and Miranda were forced into overtime, but Miranda placed the Greyhound on his back.
"He (Torres) lost a takedown on a scramble that could have gone either way," said Sevigny.
To put himself in the consolation finals, Torres defeated Jake Larsen of Mt. Baker in the opening round of the 2A State competition. He opened the tournament with a pin in 5:24 over the Mountaineer.
"In the quarter-finals Martin had a tough test against Alex Daarud of Centralia," said Sevigny. The Greyhound fell behind early in the match but battled back. "In the third period he finally took the lead with a late takedown and near fall to pull out an 11-7 win," recalled the coach.
Torres advanced to the quarter-finals and met up with eventual State champion Alex Postlewait of Mt. Baker.
Postlewait was the 2010 third place State grappler, and "showed why he had placed so high."
The Mountaineer pinned Torres in the first period of action, forcing the Grandview grappler into the consolation brackets.
"Martin bounced back from the disappointing loss with a strong performance against Brenden Best of North Kitsap," said Sevigny.
Torres prevailed with a dominating pin in 3:39, giving him the opportunity to compete in the consolation finals for third or fourth place.
"As a senior, Martin finishes his career with an outstanding State tournament showing and a fourth place showing," said Sevigny.
Castaneda, Grandview's 126-lb. grappler, this year lost just three regular season matches. That record gave the 'Hounds much hope for the postseason, and he delivered by making it to the State tournament.
Unfortunately, Castaneda did not have a great showing. He was unable to place at the Mat Classic.
"In David's first match he showed the quickness that we have come to know as his trademark," said Sevigny.
Castaneda prevailed 10-4 over Mikole Hendricks of Kingston.
"He was able to score almost at will...as a result we had high hopes about his chances in the tournament," Sevigny said.
In his quarter-final match Castaneda, however, faltered. He lost to Nolan Takemura, a senior from Bellingham, by a 5-0 decision.
"Although he was able to get in a couple of good scoring opportunities, he (Castaneda) was unable to finish them and came up a little short," Sevigny said of the match.
Castaneda dropped into the consolation brackets and "again had trouble getting started."
The Greyhound lost by pin to Luke Shell of Steilacoom in 1:59, ending the Grandview wrestler's chances of earning hardware at the State tournament.
"After such a great season it was a bit disappointing to have to end the tournament in this fashion. But again David had a great experience competing at State and this should really prepare him for a return next season," said Sevigny.