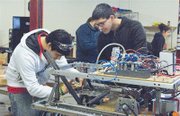 The Sunnyside High School Robotics Engineering Club is finishing up its robot for this year's FIRST Robotics Competition, the Rebound Rumble.
This will be the second year for the Sunnyside crew, according to advisor Carl Walther, with a core of several students returning to the competition.
"It's a wonderful opportunity," said Walther. This year's group has 15 students in it, most of them seniors.
The team paid $5,000 to enter the competition and received two crates of parts for building the robot. The team still needs to find sponsors to help pay for the trip to Eastern Washington University in April to attend the competition.
With a limited construction time, the team has been hard at work to finish the robot by the Feb. 21 deadline. By midnight the robot must be completed, then sealed in a bag until the competition starts.
This year's robots will be competing in three-on-three basketball games, forming temporary alliances to try to score as many baskets as possible.
The field of play has four baskets at each end, with baskets placed higher scoring more, and a barrier between sides. The robot must be able to navigate the barrier, or at least the bridges over it, and get the small foam basketballs into the hoops.
This will be the second trip to the competition for Eduardo Valles.
"It was pretty hectic last year," said Valles. "We didn't get one of the arms working. But it was good experience for us."
Valles said last year's competition involved putting hoops on a rack, with points for putting them in a particular order.
"It was a lot better than I was expecting," he said. "I kind of got dragged along into the club, but by the end I liked it."
The club will be competing at the Spokane regional competition held at Eastern Washington University in Cheney April 5-7.