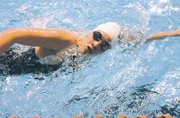 TACOMA - Sunnyside High School and Shark swim team alum Toni Castillo sparkled during the recent Northwest Conference swim championships, claiming one overall title and several top eight finishes.
A freshman at Pacific Lutheran University, a NCAA Division 3 school, Castillo earned first place honors in the 100-yard butterfly.
She also finished seventh in the 50-yard freestyle, eighth in the 100 freestyle and competed on five PLU relay swim teams that claimed top five finishes.
Competing in the aquatic center at Federal Way, Castillo's winning time of 57.7 seconds in the 100 fly was a qualifying mark for the NCAA Division 1, major college swim championships in Indianapolis, Ind. later this May.
"I swam a D-1 time, so it's possible for me to have an invite, but I'll know more in the next week or so," Castillo said of Nationals.
She said there are only a certain number of wild card-like slots available at Division 1 Nationals for swimmers from smaller schools.
Winning a college conference championship in her freshman year was a surprise, Castillo says.
"I was on the outside lane so I knew I needed to get out fast," said Castillo, who was seeded fifth in the 100 fly. "I couldn't really see anybody else, so I knew I had to go fast." Castillo, it turned out, was just fast enough as she rallied from behind to win by about half a second.
Castillo is no stranger to success in the pool, as she was eighth in the 3A State swimming championships while at SHS.
She says it was her experience on the Sunnyside Shark summer swim team that motivated her to push forward in her swimming career.
"Swimming summer league is what made me really want to continue," Castillo recalls. "It made me realize it wasn't something I just didn't want to do in the summer, but year-round."
On academic scholarship at PLU, Castillo is competing as a college swimmer because of that love for the sport.
It's a labor of love at the college level, she says.
"It's a lot more work, there's more time commitment," Castillo said of six hours of training she does each day compared to the two-hour daily regimen when she was in high school. "The intensity is completely different."
Castillo's parents, Tony and Carolyn, are proud of their daughter's success in the pool and the classroom.
"She's doing well," says Tony, a Sunnyside area firefighter. "She's majoring in biology and wants to be an ob-gyn. She has an intense course load."
Toni says the extensive training schedule for college swimming is actually a help for her studies.
"Being a college athlete makes you manage your time," she says. "If anything, it's kept me more on track because I have to get the homework done. I don't have time to do it later, so I have to do it now."
As for her college swim career, whether or not she receives a National D-1 invite this year Castillo will keep pushing ahead.
"I just want to keep winning the 100 fly and to get an invite to the NCAA," she says. "That would be awesome, but if it doesn't happen this year then that's going to be the goal for next year."