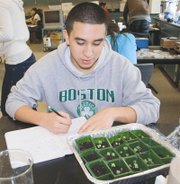 Students at Sunnyside High School, as well as at Sierra Vista and Harrison middle schools are busy preparing science projects for this coming Saturday's science fair.
Due to the absence of a library at SHS, the projects will only be set up for judging, which is scheduled from 1 to 5 p.m. The projects will be on display for judging in rooms 127 and 128.
Awards, too, will be presented in a different manner this year. The students will be presented awards in the "black box" behind the SHS auditorium Monday, Feb. 27.
What many of the students are looking forward to, however, is the opportunity to attend the annual Mid-Columbia regional science and engineering fair at the Columbia Center Mall in Kennewick this coming March 8-10.
As is customary for the students in Sunnyside's schools, the students are this week preparing ambitious projects. At SHS there are approximately 50 students gearing up for the annual science fair experience.
Cynthia Van Wingerden, a student of SHS science educator Joyce Stark, is preparing an environmental engineering project. It is focused on eco-friendly light-transmitting concretes.
She said she made concrete products containing fiber optic lighting and broken glass for the purpose of growing plants indoors.
Another of Stark's students, Sydnee Hernandez, has been measuring the growth of radish plants grown with Knox gelatin.
"I want to find more eco-friendly alternatives to fertilizers," said Hernandez.
A chemical engineering project designed to help the military is the focus of Maria Quintero's project.
Last year, she was elbows deep in garbage compost. This year, however, she has been working with fabric and a number of chemical compounds to test the possibilities of blocking infrared light.
Quintero said the idea behind the project is to discover a way to keep military men and women from being detected on the battlefield.
Another project designed to help the environment is being completed by Blanca Contreras.
"I kept seeing cigarette butts and ashes around plants and I wanted to see how the plants are impacted," she said.
As a result, Contreras has been growing plants and exposing them to cigarette butts and ashes.
The study of carbon dioxide is at the crux of Israel Ramos' project being entered in the annual science fair. He has been focusing on the effect of excessive carbon dioxide levels on plants.
Because plants produce oxygen via photosynthesis, which is the respiration of carbon dioxide, Contreras said he used baking soda and vinegar to produce excessive levels of carbon dioxide for one plant.
He grew a plant within a contained environment and vacuumed the oxygen levels from that environment for a "medium." The control plant was grown without containment or excess exposure to carbon dioxide.
Amanda Bestebreur has been studying the effects of ultrasound in removing bacteria from stimulated prosthetics.
She said, "I am trying to determine how much bacteria growth is on a prosthetic limb."
Bestebreur removes the bacteria using an ultrasonic cleaner.
Each of the projects being entered into this coming Saturday's science fair tests the world in which we live. The students said the projects help them to problem-solve and explore.
The top projects will qualify for the regional fair in March.