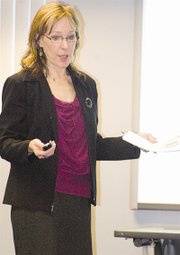 TOPPENISH - Nearly 70 percent of Yakima County residents have admittedly said they have a family member who is in a gang.
Yakima County Department of Human Services employees presented preliminary findings of the Yakima County Gang Commission community assessment at a monthly commission meeting held in Toppenish yesterday (Tuesday).
The reports, according to Housing and Homeless Programs Manager Tim Sullivan, were compiled to collect data to help determine if the efforts being put forth by the Gang Commission should be sustained. In addition, the study's findings might also help garner funding for the commission's efforts in the county.
Also, Sullivan says the findings will help the commission and the county better address gang activity issues that arise county-wide.
Volunteers with the county canvassed neighborhoods, hit the county fair and passed out surveys last year. The findings show that a large percentage of Yakima County residents are under the age of 21, with the city of Granger having the largest number of juveniles at 51 percent.
ESD 105 employee Anna Marie Dufault says the figures show that 35.7 percent of Yakima County's population is comprised of people under the age of 21, compared to just 28 percent of the state of Washington being under that age.
The analysis also looked into the median ages in each of the county's cities, per capita income, a percentage of the population receiving Temporary Assistance for Needy Families, those who live with grandparents and education levels. In addition, the report looked at the overall crime rate in the county, the violent crime rate and arson and murder crimes.
Nearly 85 percent of those answering the survey said they were not employed, and 50 percent said they were enrolled in school.
More than 42 percent of surveyed people said they personally have seen more than 10 instances of gang intimidation either in the community or on school grounds. Nearly 35 percent admitted to witnessing gang recruiting. Of the survey responses, 73 percent said it was easy to obtain drugs and guns in the county.
Dufault says the team working on the assessment plans to finish up the report by the end of next month. They will complete the county-wide assessment, while also delving into the specifics and identify disparities in individual cities among the county.
A full report, with more than 300 data counts, will be presented to the commission at next month's meeting, to be held at the Selah Fire Department, March 20.