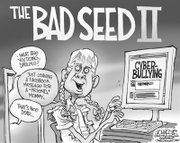 Many years ago, I was a victim of cyber-stalking. It started with nasty e-mails full of name-calling and general rudeness, but escalated to threats.
I was advised by my local police department to file a report with his local police department. Using techie detective skills I located him. I called his local police department and received a knowing response, "Oh, him" as soon as they heard his name. I wasn't his only victim, and the police had a close eye on him.
I haven't heard from him in some time, but recently I was introduced to a problem right here in Sunnyside that made all the memories of those difficult times come flooding back.
There are a couple residents of this town who think it is acceptable to write harassing and potentially libelous e-mails that they send out in mass mailings.
I had the misfortune of reading a number of these missives in research for a potential story related to the subject.
The writing style is familiar to me, having seen endless flame wars (heated arguments) on internet forums in my time. Grammar, spelling and basic self-editing are thrown out the window in such notes. They are difficult for an English grad to read without wincing. Add in the petty insults and condescending attitude, and reading becomes physically painful.
With my internet history, I find these e-mails more sad than anything. It's depressing to realize that such hatred is festering here. It is something that needs to stop.
Freedom of speech is a foundation of our country. But many courts over the years have determined that freedom of speech does not give people freedom to harass. And that's what many of these e-mails are: pure cyber-bullying.
No thinking adult would write a rant in that style and then have the gall to send it out to as many people as possible. That's reflective of the actions of a two-year-old having a temper tantrum.
No intelligent adult would write some of the things in these notes in e-mail. It wouldn't be too difficult to prove libel in some of these cases. The e-mail writers are fortunate that their victims aren't as petty and vindictive as they are.
The story I was to write was about how these people had been asked to stop, or hadn't, as the case may be. Fortunately for me, there was not enough information to make the story worth writing.
Unfortunately for me, I ended up talking with the authors of the e-mails and found they matched their missives entirely too well.
And those "discussions" brought back a lot of unhappy memories of people too consumed with passionate hatred to be coherent about their subject of hatred. Instead of trying to convince me with facts, the two e-mail authors poured abuse on me as if that would convince me of their points.
I want nothing to do with them. Instead of presenting a case that I could believe, the language they used and the attitude they took with me persuaded me that they are simply bullies.
From here on out, anyone who says they are friends with those two will automatically be suspect in my eyes. You see, distrust breeds distrust. I'll have to fight my human instincts to prevent it from becoming hatred, like theirs.
It's a horrible feeling to have.
One last, petty, thing. In online communities, there is a rule called "Godwin's Law". It's an observation that the longer a discussion goes on, the more likely that someone will compare someone else to a Nazi. A common understanding of Godwin's law is that the first person in an argument to make a ridiculous comparison to Hitler or Nazis automatically loses the argument.
One of these local e-mail authors definitely lost his argument.