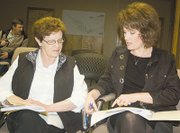 Following an informational meeting yesterday that only drew three Grandview Irrigation District landholders, the stage is set for a vote to be held next Thursday, March 1, on whether to merge with the Sunnyside Valley Irrigation District.
During Thursday's meeting at SVID's office, GID landowners learned the election will be held at the law office of Rick Kimbrough, 607 E.Wine Country Rd. in Grandview.
The March 1 vote will be open from noon to 8 p.m. Grandview Irrigation District landowners will be presented a simple yes/no ballot on the question of merging with SVID. The Grandview Irrigation Board will certify election results on March 5.
Land owners from GID in January of this year proposed the merger idea to Sunnyside Valley Irrigation District officials. Earlier this month, SVID's board gave its approval of the merger.
Lori Brady of SVID noted that each GID landowner will have two votes on the merger question for each parcel they own up to five acres.
Those with more than five acres will receive an additional two votes for every five acres they own. A GID landowner with 20 acres, for example, would receive eight votes.
Brady also provided several local phone numbers GID landowners can call, if they approve the merger, to order water after they've paid their assessment for the year. Those phone numbers are 882-4343, 837-2223, 837-8611, 837-5040 and 837-3115.
Water can also be ordered on-line at www.svid.org
SVID administrator Jim Trull said GID landowners' irrigation annual assessment for 2012 will remain at $112 if the merger is approved. SVID landowners will have an assessment of $93 in 2012.
Starting next year, if the merger is approved, Trull said GID landowners will pay the same assessment as other SVID landowners, which will be about $97.
In 2012 GID landowners would have a dedicated ditch rider, if the merger is approved, and the $240,000 in funds the district has left will be used on projects in the Grandview Irrigation District.
The biggest projects that would be undertaken with GID funds, according to SVID assistant manager-engineer Ron Cowin, would be repairing the hydro turbine at an estimated cost of $90,000, rebuilding the intake structure ($50,000) and upgrading the electrical system ($35,000) in the Grandview Irrigation District.
Those with questions about the proposed merger or the process of transitioning to SVID water supply if the merger goes through can call SVID at 837-6980.
Absentee ballots for the election are available by calling GID secretary Ann Bentley at 882-2220.
Bentley, who retired in 2001 as a payroll clerk at SVID then became GID's secretary in 2005, said she "feels great" about the prospects of the merger.
"I'm ready to re-retire," she smiled.