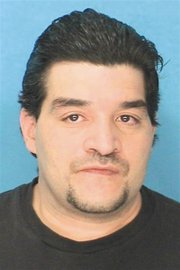 Ricardo Siller, 41, of Sunnyside is being sought by Sunnyside police today, Friday, on charges of possessing methamphetamine with intent to deliver.
That's according to officers who conducted a search of a vehicle yesterday, Thursday, in the 1100 block of South First Street.
In observing the vehicle officers said one of the occupants, Sarah Jasso of Grandview, was known by police to have active warrants. Upon initiating a traffic stop, police say Jasso attempted to conceal several items in a purse in the car.
Police said the purse contained methamphetamine and Jasso, 29, was taken into custody on charges of forgery, identity theft and possession of methamphetamine.
Police performed a search warrant on the vehicle and said they also found a loaded .380 semi-automatic handgun along with stolen identification items, washed bank checks, five grams of meth packaged for sale, digital scales and packaging materials and stolen property.
Based on the outcome of the search warrant, Sunnyside police are looking for Siller, who is described as standing 5-9 and weighing about 175 lbs.
Anyone with information on Siller's whereabouts is asked to call the Sunnyside police at 836-6200.