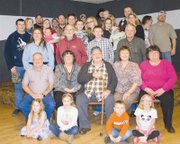 Today (Monday) marks a milestone for longtime Sunnyside resident Leonard Graves.
He turns 90-years-old.
A special celebration for Graves was held this past Saturday at the Sunnyside Fraternal Order of Eagles lodge, where friends and family members gathered around him.
They celebrated with laughter, song and plenty of birthday cake.
Graves said he never thought he would live to see 90.
"I raised four daughters and a son," he laughed.
Graves was raised in White Bluffs, which is no longer on the Washington map because it was a small town located where the Hanford site is now.
"Uncle Sam made me move," he said with humor in his voice.
In 1942, Graves joined the U.S. Army and served as an infantryman. He was a truck driver, responsible for hauling supplies to the front lines in Italy.
"I saw too much (action)," he said, stating he doesn't like to talk about his military career.
Graves was discharged from the military in 1945 and he settled in Sunnyside upon his return from World War II.
He met Sunnyside native Gladys Hammer and was smitten. The couple married in 1947.
At the time, Graves worked for Airport Ranches, farming. That was his career for six years before he landed a position at Sunnyside Frozen Foods at the corner of South Fifth Street and East Franklin Avenue.
"I was a meat cutter and Gladys was a wrapper," said Graves.
The couple had five children. They include Judy (deceased), Pat, Myrtle, Becky and Lenny.
"I'm a jack of all trades and a master of none," he interjected.
When Sunnyside Frozen Foods closed, Graves went to work in Prosser at Twin City Foods. He retired in 1987.
Over the course of his many years living in the Yakima Valley, Graves said there were many changes. The home on Harrison Hill he and his wife purchased was surrounded by orchards. When he left that home 40 years later, there were several neighborhoods surrounding the place.
His family also changed as his children married and had children of their own.
"I lost count of the number of grandkids I have," said Graves, acknowledging the ever-growing family is a legacy of which he is proud.
"It never entered my mind one way or another that I'd reach the age of 90," he laughed, looking out upon the many family members gathered for his birthday.
Graves said he's pleased to have lived so long and to have so many people who love him.
More like this story