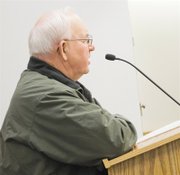 At last night's Sunnyside City Council meeting half a dozen or so citizens expressed a desire to see City Manager Mark Gervasi serve in his current capacity until a replacement can be found.
Former Councilmen Tom Gehlen and Carol Stone, Melba Fujiura, John Rodriguez, Pete Sartin and Planning Commissioner DeAnn Hochhalter all stood before the council to express their support for Gervasi, who could not be present due to an illness.
Each of the citizens said they believe it is in the city's best interest if Gervasi were to continue working as interim city manager.
"Whether you like it or not, he's good for Sunnyside," said Fujiura.
Stone said the city has had too much changeover and she would like to see some consistency. "We have a city manager that fits this town...if he's willing to stay until a permanent city manager is on board, it would benefit the citizens."
Sartin spoke to the issue of whether or not the council has been interfering with the duties of the city manager.
"You need to stay out of the city manager's way," he said, stating he has heard of too many instances regarding council members "undermining the city manager."
Sartin said it is the city manager's job to direct city staff, but some council members have gone "behind the city manager's back."
He said, "I shouldn't get 15 calls congratulating me for speaking out at a council meeting."
The others all expressed similar sentiments, stating they feel Gervasi has been a good city manager and they would like him to assist in the transitioning period until his replacement can be found.
One citizen, James Stevens, after speaking about police matters said, "We shouldn't lobby the council on the city manager decision."
Gervasi's resignation was submitted earlier this month, expressing his desire to retire on April 6. However, there have been discussions between him and some council members regarding the possibility of his serving as interim city manager.
He was scheduled to meet with the city council members last night to discuss the interim city manager position in an executive session. The council did meet with three other candidates who have expressed an interest in serving on an interim basis. The council also expressed an interest in further discussing the position with Gervasi when he is in better health.
The three candidates with whom the council met during an executive session include former City Manager Dave Fonfara; Regner Capner, a Lower Valley minister; and Robert Young, formerly of Vernonia, Ore.
No decision was made following the executive session, but there was some earlier discussion as to whether or not the council should accept Gervasi's resignation.
Councilman Nick Paulakis said he believed it was premature to do so, especially in Gervasi's absence.
Councilwoman Theresa Hancock said, "I would at least like to wait until we have had the opportunity to discuss a new departure date, especially since he has indicated a willingness to stay on."
Councilman Jim Restucci agreed, stating the interviews could move forward, but a final decision shouldn't yet be made.
Councilman Don Vlieger said he had spoken with Gervasi earlier in the day. He said Gervasi told him he was no longer willing to serve on an interim basis.
As to the issue of accepting the resignation, he said, "It makes no difference."
Councilman Jason Raines said Gervasi could submit a resume, expressing an interest in the interim city manager position, if he desires to do so.
He said the process of accepting the resignation is a formality that was unnecessary.
Mayor Mike Farmer agreed, stating Gervasi would need a new contract if he were to serve as interim city manager.
The Sunnyside City Council voted 4-3 in favor of accepting the resignation of Gervasi. Restucci, Hancock and Paulakis were opposed.