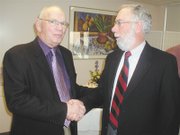 Effective today a familiar face is leading Sunnyside Community Hospital, as Bob Brendgard has been named interim CEO. He replaces Jon Smiley, who recently retired.
Brendgard was CEO at the hospital in the 1980s and, according to the Sunnyside Community Hospital newsletter, recruited Smiley to the post.
He brings more than 30 years of experience in hospital management and, prior to his retirement in December 2010, served as regional vice president of operations for Tennessee-based HealthTech Management Services.
Today Brendgard works with the company as an interim CEO for the hospitals it manages.
While Sunnyside Community Hospital is a private, not-for-profit facility owned by the Sunnyside Community Hospital Association and governed by a board, management services are provided by HealthTech, also known as HTMS.
"Through a relationship with HTMS, SCH has access to support services and resources that allow the local community to maintain control of their hospital and pursue their mission of promoting quality health care services," noted Karen Griffin, the Tennessee company's marketing and communications manager.