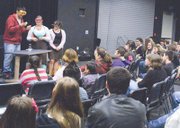 An audience of more than 100 people packed SHS's new black box theater last night for the annual science fair awards ceremony.
Monday's event featured recognition of all middle school and high school participants in last weekend's Sunnyside science fair.
A total of 75 students submitted projects for the science fair, with the projects evaluated and graded by volunteers.
Prizes were announced last night for middle school and high school participants.
Honorable mention for middle school student entries were awarded to Rebecca Chavez, Dina Guizar, Karla Villanueva, Allison Davis, Carlo Rodriguez, Claudia Pena and Michael Candie.
Mikaela Chavez earned third place honors among middle school projects, with Andrew Diddens finishing second and Cole Gardner taking top honors.
Rodriguez and Villanueva are Sierra Vista Middle School students with the remainder at Harrison Middle School.
Among the high school competitors, honorable mention notice went to Amanda Bestebreur, Jasmine Gonzalez, Gardenia Contreras, Marisol Vega, Perla Alcantar, Angela Saganaga, Thalia Borja, Madi Marquez, Itzel Alviso and Maria Quintero.
Third place was awarded to Sara Berumen's project, followed by second place honors earned by Jenny Hall. Kelli Wilson received first place honors and Cynthia Van Wingerden was the winner of the grand prize.
The evening also featured a series of experiments by SHS science teacher Joyce Stark and members of the high school's science club.
The next step for participants in the local science fair is to fine tune their projects for regional competition in the Tri-Cities on March 8.
Harrison Middle School science teacher Darla Van Corbach noted that just because students didn't receive honorable mention notice or higher last night doesn't mean their projects won't earn honors at the next level.
She noted the point differential between most of the projects in the local science fair were slim and that students can take the critique they received from judges and use it to enhance their presentation at the next level.
Not only did last night's event recognize student work in science, but parents are also applauded. Assistant Principal Dave Martinez thanked parents for "challenging your students."