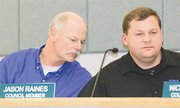 Sometimes speaking out can be like walking into a bear trap.
That is what it was like last night when Sunnyside City Councilman Nick Paulakis made a motion regarding the behavior of city council members as outlined in the council's code of conduct.
He wanted to have a consensus regarding how the council conducts business.
Paulakis said he believes the city council should treat each other with respect and dignity.
Councilman Jason Raines didn't like the motion, citing every council member is entitled to the freedom of speech. He displayed a book that contains a copy of the U.S. and Washington state constitutions.
Raines also read the freedom of speech clause from the first amendment of the U.S. Constitution.
"I am all in favor of the sentiment of the motion (by Paulakis), but I am opposed due to its constitutionality," he said.
Sunnyside Assistant Finance Director Amy Palmer was granted permission to speak to the matter.
"I feel it's appropriate to exercise my freedom of speech...I believe council member Paulakis was speaking to a higher law," she said.
Palmer said it is the council's choice to speak to one another with respect, and she believes to do so is a matter of offering one another a certain amount of dignity.
Councilman Don Vlieger said the matter of speaking to one another with a certain level of respect and dignity is included in the council's code of conduct, but he believes the code limits individuals from "saying what they want."
He turned the tables and said the citizens, too, should be provided the opportunity to speak their minds.
"This is your government and you have a right to say what you think," said Vlieger.
He said everyone present during a council meeting should be allowed the opportunity to talk about staff and other problems without limitations.
"My biggest problem with the code of conduct is it hinders citizens," said Vlieger.
Councilman Jim Restucci spoke to the matter, stating, "The code of conduct is in place to protect the city from libel."
He said there are protocols that should be followed when a problem arises and the city manager should be allowed the opportunity to remedy the problem before it becomes an issue at a city council meeting.
"We don't need to air our dirty laundry at these council meetings," said Restucci.
He said the code of conduct is in place as a guideline.
Restucci's remarks were met with applause from many of those present in the audience.
Councilwoman Theresa Hancock concurred, stating she believes it is unpleasant for the city staff when they become the target of citizens or council members.
Vlieger argued, "We are not the gatekeepers of free speech."
Hancock countered, "Then why do we limit (public) comments to three minutes?"
Raines joined the discussion again, stating he believes the council agrees on how meetings should be conducted.
However, he said, "People have the right to say what they want to say and be held responsible for it."
Hancock said letting individuals speak too freely places the city in jeopardy, subjecting Sunnyside to the possibility of lawsuits.
"You can't lie about people and not expect to be held accountable," she said.
Many citizens present for the meeting made it apparent they were pleased with Hancock's statement, applauding the remarks.
Restucci said council meetings are intended to be conducted as business meetings.
"Public comment is a privilege...there is no law stating we must allow public comments. I don't have a problem with citizens voicing their concerns as long as they have gone through the proper channels," he said.
Raines said it is not the council's job to "censor" what is said at a council meeting.
Paulakis apologized, stating it wasn't his intent to have a drawn out, heated discussion regarding whether or not council members and citizens should speak with respect and dignity.
After a few more comments, the council voted in favor of Paulakis' motion by a 6-1 vote which calls for the council to speak to one another with respect and dignity. Raines was the lone council member to dissent.