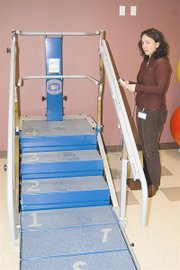 Darlene Wagar is chomping at the bit to get into the new gym at Eagle Rehabilitation at Sunnyside, which should happen later this week if all goes well.
Formerly known as Hillcrest Manor & Rehabilitation Center, the facility is nearing completion on an expansion and remodel that topped the $3 million mark.
In the meantime, the facility's rehab director has been getting the equipment set up in her spare time while still working with patients in the tiny gym that will soon be vacated.
Wagar has been a physical therapist for 14 years and has been working for Eagle Rehabilitation for eight of those years. She was born and raised in Sand Point, Idaho, and married a native of the Yakima area.
Her family lives in Richland and she commutes to Sunnyside.
"It's a pleasant drive," she said. "But we're keeping the oil companies in business."
Wagar worked in pediatrics for five years, including time at Children's Village in Sunnyside. She worked with Yakima Memorial Hospital and also saw inpatients.
After being employed at Eagle, she spent six years in Vancouver, Wa., before returning to the Yakima area.
Wagar is pleased with the new workout area she will have to work with and the new equipment the facility has to help its patients.
Already popular among the patients is the mobile "It's Never 2 Late" system that is essentially a video game. Patients already have responded to the features.
"I have one patient that I can never get to move," said Wagar. "But when I ask if she'd like to bicycle through the Redwoods, she gets up to do it."
The system is so popular and useful that the facility is considering getting a second one.
In the new gym the dynamic stair climber has been installed. The machine allows patients to climb four steps up to six and a half inches tall, practicing for when they return home.
"One gentleman has nine steps down into his home," said Wagar. "With the stair climber I can get him to go up and down a couple of times and then we both know if he can manage the steps."
The gym also has a short-wave diathermy machine. The device uses an electromagnetic field to promote blood movement, which in turn promotes healing. A patient can simply rest with the machine aimed at an area that needs blood flow improvement.
"A woman at the last location I was at was helped a lot by this therapy," said Wagar. "It's a bit like ultrasound, only electromagnetic and I don't have to stand next to the patient focusing the ultrasound into the area I need to hit."
With 10 times the space of the current gym and all the new equipment, Wagar hopes the new gym will help patients recover more quickly. The therapists are definitely looking forward to the change.
"It'll be nice to have room to move," she said.