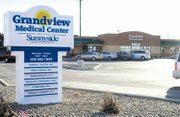 GRANDVIEW - Birch Street Medical Center in Grandview earlier this month was closed by Sunnyside Community Hospital officials due to budget constraints.
According to Dr. Jon Mercer, a hospital board member, "The closure of Birch Street was forced upon the hospital."
He said the hospital has a vested interest in serving the health care needs of the community and had to evaluate the best way to keep in place full-time providers.
Mercer said the clinic has experienced the departure of several staff members over the past few years and manpower has shifted.
To continue providing the community with services provided by Physician's Assistant Susan Bussert and Dr. Derek Weaver, the decision was made that the duo would join Grandview Medical Center.
Hospital CEO Jon Smiley confirmed Grandview Medical Center will soon lose Dr. Karen Easton, who has decided to move back to Canada. Her last day at the clinic will be April 6.
"We're sorry to see her go," he said.
As a result, it is believed patients will benefit from the addition of Bussert and Weaver to the clinic, especially those looking for a different provider.
Mercer said, "The administrator (Smiley) had to keep in mind the quality of care, maintaining available providers and keeping overhead low."
As for the fate of the Birch Street building, Mercer said the hospital has no plans to sell it.
He said the facility could be reopened if the state legislature restores funding and the patient demand in Grandview increases.
Smiley said, "Who knows what the future holds."
Mercer said the financial outlook is still uncertain because the legislature still hasn't decided upon the state's 2012 budget.
Another consideration in approving the merger of the two clinics was the patient load at each of the Grandview clinics.
"As it is now, neither of the clinics was operating at full patient capacity," said Mercer.
He said the hospital increased the number of providers for patients in both Sunnyside and Grandview because there was a need.
"Nobody likes to meet friends on the street and hear it's difficult to get a medical appointment," said Mercer.
He said the numbers, however, "didn't pan out."
In 2010 the hospital expanded Grandview Medical Center. Mercer said the facility provides a high quality center with a high level of care.
Both Mercer and Smiley believe moving the providers from Birch Street Medical Center to Grandview Medical Center will benefit everyone.
"Hopefully it will keep it economically feasible to handle patient demand and maintain quality care," said Mercer.