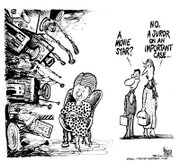 Last month I was astounded when I received my first-ever jury summons.
I only knew a small portion of what it meant to receive the summons, as it turns out.
I knew people dread jury duty, but I wasn't certain why. After all, I thought of jury duty as a privilege and I thought I would be honored to serve, if asked to do so.
I knew, however, that not everyone who receives a summons has to report to the courthouse on a daily basis.
My husband served on a jury once before we met, and he shared some of the interesting aspects of that time. He said the prosecutor didn't have any evidence related to the case and he was familiar with the defense attorney on a personal level. He was able to serve on the jury for the trial because he pointedly told the court his personal history with the defense attorney had no bearing on the case.
So, with all this in mind, I figured I would not be duty-bound to travel to Yakima on my first day of jury duty. I also believed the probability of being selected to serve on a jury was low.
I was only half right because I had the grand experience of traveling to Yakima and sitting through a day of jury selection on the first day.
It was quite an experience for me and very eye-opening. The bailiff, who was entertaining, advised those of us in the jury pool that the first 35 would be among the most likely to serve on the jury.
I was No. 42, so I was pretty much in the clear. However, I couldn't be eliminated just because of a number. I still had to wait out the process.
The day involved the bailiff entertaining us when we had to wait. If he wasn't in the room, many of us tried to read. The group was a lively bunch, so there was some entertainment in conversations, as well.
I understand some don't understand how jury pools are selected, so we watched a video that explained the process. It would have been informative if I didn't understand the voir dire (process of eliminating potential jurists based on questioning) and the process of a trial. But, it was not entertaining.
Waiting was the difficult part for all. Many in the room, in spite of the entertainment from our bailiff, wanted to be anywhere but in that courtroom.
Lighter moments were had when individuals with an obvious sense of humor spoke up during the selection process. We were each instructed to provide a brief biography. Included was our favorite leisure activity. One man said he likes to mow his lawn, and another said he likes kissing his girlfriend. Most of us found those responses quite humorous.
A married couple was included in the jury pool. We were asked whether we believe we know what another person is thinking, especially in a relationship. The husband responded, "She's always right."
During moments when a group is collectively feeling mired in a situation, moments like those make a day bearable.
I learned patience is a key component to the first day of being selected to serve in the jury pool.
As for serving on the jury...well, I was right about being eliminated from serving. I was excused with those who remained after the jury was selected.
That doesn't mean it's all over for me, however. I still have 10 more days to check in with the courts.
But for now, my innocence remains intact. Which means, yes, I'm guilty of not truly knowing what it's like to help decide the fate of another.