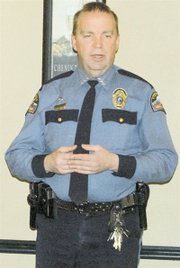 Sunnyside Police Chief Ed Radder will retire effective March 31.
That's according to a statement he issued to the Sunnyside City Council last night.
"This process has been in the works for quite some time, and it has now come to the time for me to begin the next journey," Radder said in the e-mail sent to council members and City Manager Mark Gervasi.
Radder made the announcement Tuesday night after first informing his supervisory staff at the police department.
By phone this morning, Radder told the Daily Sun News the timing of his retirement in the wake of a 131-page report critical of his department is coincidental.
"There is no 'one reason' why I am choosing this time to formally retire," Radder added in an official statement for the Daily Sun News. "I am going to miss the great people that make up not only this department, but also the community at large."
"A job well done"
Sunnyside will miss Radder as well, notes Jim Restucci, city council member and former mayor.
"I have to commend him for a job well done," Restucci told the Daily Sun News this morning. "Chief Radder has been a stalwart champion for this community. I hate to see him go. He will be greatly missed."
Restucci praised Radder's efforts not only on behalf of the police department, but for community groups such as Sunnyside's Promise.
"It is a sad day for the city of Sunnyside hearing that Chief Radder has announced his retirement," said Lisa Fairbairn, operations manager for Sunnyside's Promise. She said Radder, a founding board member for Sunnyside's Promise, served as the agency's chair for nine years and continues to serve on the board of directors.
Mark Baysinger, executive director for Sunnyside's Promise, added, "Ed has been an advocate for youth. Chief Radder's heart and passion was to make a difference for all kids."
Radder's work here also earned praise from his former boss, Dave Fonfara, a former Sunnyside city manager.
"Chief Radder is an outstanding law enforcement professional. He has served the city of Sunnyside with honor and distinction for well over 30 years," Fonfara told the Daily Sun News. "I truly appreciated his service as police chief during my tenure as Sunnyside's city manager and wish Ed nothing but the best as he moves forward in future endeavors."
As for Sunnyside's future, Restucci said Radder will be difficult to replace. "Whoever takes his job is going to have some big shoes to fill."
Next steps
The process for determining Radder's successor is "...really a city manager's responsibility," Restucci said.
Under Sunnyide's form of government, the city manager is responsible for hiring and terminating personnel.
"Chief Radder and I are going to be talking about it today," Sunnyside City Manager Mark Gervasi said of finding a new police chief. "The decision will be made through me."
The transition to a new police administration, Restucci noted, will likely reflect recommendations made in the 131-page review of the department, as well as an update planned for the document.
"I think there will probably be changes based on what was identified in the report and some from the updated report," Restucci said.
He said the update will include a conference call between the firm that did the report, Texas-based MGT of America, along with Radder, Gervasi and Deputy Chief Phil Schenk.
"The phone conference will iron out some of the things in the report," Restucci said. Those areas to be addressed include the comparable cities MGT used in the report.
Wrapping up
As for his work during his last month as Sunnyside's police chief, Radder in his e-mail to council last night noted, "I look forward to working earnestly, for the remainder of the month, to wrap up several projects that I have going at this time."
Radder praised the Sunnyside community in his retirement announcement to the city council.
"I came here planning on working here for 15 years, then going to work in the Okanogan Valley. That was in 1978," Radder said. "The quality of the community has held me here ever since. It has been a pleasure working for one of the best law enforcement agencies in existence, (in spite of some hurdles now and then)."