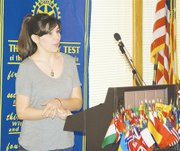 Lizze Sustaita didn't look like a wicked witch as she presented information about Sunnyside High School's play to the Noon Rotary Club this past Monday, but that's her role in the Wizard of Oz.
Sustaita visited the club to promote the play, which has taken a huge effort to produce and perform. She said 53 students are in the cast, with another 37 working as crew. Several grads came back to help, as well.
The students have been working on the play since December, averaging three or four hours a day, said Sustaita.
"We've really gotten to know each other," she said. "We're more like a family now."
Because of the wealth of talent at Sunnyside High School, the cast was split to allow more students to take lead roles.
"This gives more people a chance to grow as actors," she said.
Sustaita plays the wicked witch in the "A" cast, which will be performing for the public this coming Thursday and Saturday. The "B" cast will take the stage for Friday's public show. When not performing the lead roles, the opposite cast members have roles in the ensemble.
"I actually play a lot of parts," Sustaita said. She named off several parts she played, and when she referred to playing part of the poppy field she performed a quick dance move.
"We actually have seven more shows," said Sustaita. "Four of them are for the elementary students. The 'B' cast will be doing more of those."
Sustaita wanted to make sure all the Rotarians knew that admission to Thursday night's performance is free with a donation of new or gently used shoes. The shoes will be donated to the Treehouse Wearhouse in the Seattle area, which provides clothing and other essentials for foster children. The idea came from a similar project done with a production of Cinderella.
In response to a question, she said she has read the original book the play is based on.
"It kind of bothers me that they're ruby slippers when they're supposed to be silver slippers," she said, regarding the difference in Dorothy's footwear from book to play.
A senior this year, Sustaita would like to make a career of theater. She mentioned visiting Disneyland and learning it employed college students as interns. She plans to attend the University of Washington before moving to California to pursue her chosen career.