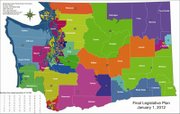 OLYMPIA - Beating its state-imposed deadline by less than 90 minutes, the Washington Redistricting Commission on Sunday, Jan. 1, updated the state's 49 legislative districts.
The result is a vastly changed landscape for the 15th District. Though it still includes the Lower Yakima Valley, the district is minus Skamania and Klickitat counties, which were added to the 14th District.
Under the proposal, which will be reviewed by state lawmakers when they convene next week, the 15th District has been limited to eastern Yakima County, adding Selah, Union Gap and east Yakima.
The move doesn't sit well with those who serve the 15th District.
"I'm very disappointed in what they've done," said Sen. Jim Honeyford (R-Sunnyside). "I've represented people in Skamania and Klickitat counties for the past 18 years."
As for the commission's perspective that the new boundaries provide a 15th district that is comprised with a majority of Hispanics, Honeyford contends that his district already had a majority of residents belonging to a racial minority.
"We were already a minority majority district, if you count Filipinos, the Yakama Nation and Hispanics," he said.
Honeyford said the commission used a different standard for developing the legislative district than it did for congressional boundaries. "They did it to make an Hispanic district and in doing so they didn't consider all the legal aspects," he said.
Honeyford noted that more than 100,000 people were shifted between the 14th and 15th districts to accommodate the commission's vision for an Hispanic district.
Honeyford and State Rep. David Taylor agree the new 15th District minus Skamania and Klickitat counties is a blow to agricultural interests.
"With all of east Yakima it's going to make the 15th more of an urban district," Honeyford contends.
"Boundaries are supposed to keep communities together...and they didn't do it," Taylor (R-Moxee) said of the commission's proposal. "In my opinion our agriculture, vineyards, dairies align us more with Klickitat and Skamania counties. Instead we have Selah and Terrace Heights."
Taylor feels the new district lines violate the state constitution, which calls for redistricting to consider natural barriers and political subdivisions.
In addition, he says the move to create a Hispanic-majority district violates the state constitution, which calls on the commission to not make decisions that benefit or harm specific groups of people.
"I'm deeply disappointed the redistricting commission decided to make this political and not make it based on historical population trends and the actual economy of the area," Taylor said. "This was purely political."
Both Taylor and Honeyford feel a legal challenge to the new 15th District would have a good chance in court, yet agree that it's too soon to tell if a group will mount a case.
If the boundaries are not challenged and if lawmakers approve the new 15th District, Taylor says the focus will be on representing both the urban and rural interests of the new-look district.
"With Selah, Union Gap and East Yakima in the district we're going to have to take a closer look at urban areas," Taylor said.