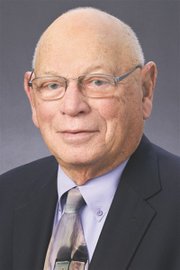 Sunnyside Community Hospital CEO Jon Smiley was recently selected as vice chairman for the New Vision Board of Directors.
"New Vision does offer an opportunity for us to promote our area and they were very instrumental in helping bring in the Walmart Distribution Center, Canam and the horticulture business in Mabton," Smiley said.
He added, "We need to have family wage jobs here in the area and my goal is to promote more business into our area."
As vice chair for 2012, Smiley said his role, in addition to regular duties as a board member, will be as a substitute if the New Vision chair is absent. "I might preside at some committee meetings," he noted.
New Vision, the Yakima Community Development Foundation, exists to encourage economic development in the Yakima Valley.
To date, it has helped 18 companies locate or expand operations in Yakima County since 2005, generating an investment of $75 million in new facilities and adding more than 600 jobs.
Smiley has been on the New Vision board since 2004 and previously served as its secretary prior to his appointment as vice chair.