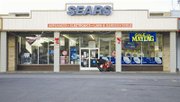 After fourth-quarter sales reports were released, Sears Holdings Corporation, the parent company of Sears and Kmart stores, announced last week it will close at least 100 stores nationwide.
This decision is said to be in hopes of generating cash for the company and increasing customer satisfaction.
But Sunnyside Sears Hometown store owner Eric Dirks said it's unlikely the Sunnyside location will close.
"Our program is extremely successful," he said. "They (corporate) are planning on closing under-performing stores."
In addition, Dirks says the reasoning behind the changes is in hopes of bringing back "the customer experience of the old days."
He says Sears Holdings will release a full list of stores closing soon, but it's unlikely that local stores will be affected.
Sears wants its customers to know that the company is still in good shape financially, but they want to keep it that way.
Sears Holdings has reported over $3.5 billion in liquid assets, including $700 million in cash and $2.9 million of availability under existing credit facilities.
Final determination of the stores to be closed has not yet been made, but Sears expects to have the specifics by the end of this week.