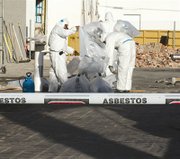 Nearly eight months ago a fire destroyed the Safari and El Conquistador restaurants in downtown Sunnyside.
Yesterday, Tri-Valley Construction Inc. began asbestos clean-up at the Conquistador site.
"There is asbestos in literally thousands of building products," said Tri-Valley Construction spokesman Jerry Conduff. "Before a building can be demolished the asbestos needs to be (safely) removed," he added.
Materials testing positive for asbestos that can be safely removed from the site are required by law to be handled according to proper standards. Because the building was burnt, the material debris needed to be tested for asbestos before removal.
"Only part of (the tile) tested positive (for asbestos)," Conduff said.
The vinyl flooring, according to Conduff, is a material suspected of asbestos content, but it tested negative. Nearly 1,000 square feet of the old restaurant was cleared of asbestos before demolition could begin.
Part of the tile tested negative, while other parts tested positive. The crew went into the site with proper protective gear and safely removed all asbestos. The material was bagged and will be disposed of at a landfill.
"It gets quantified and tracked," he added. "There's a pretty significant process it goes through before getting it into the landfill."
Russell Crane Service began demolition this morning.
The Safari restaurant clean-up was completed several months ago.