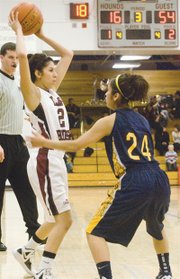 GRANDVIEW - If it had been a boxing match, the Grandview girls would have been down on the canvas and counted out in the opening round.
But, it wasn't pugilists in action last night. Rather, the Wapato High School girls basketball team rolled into Grandview and socked away a thundering 73-27 CWAC victory over the host Lady Greyhounds.
"They're good, no doubt about it," said Grandview Coach David Gibb about Wapato.
Sammi Blodgett inflicted the heaviest blows against Grandview's girls. She nailed 13-of-21 shots from the field and went 4-for-5 from the free throw line enroute to lighting up the scoreboard for a game-high 30 points. Blodgett, who was greatly aided by teammate Briana Cordova's game-high eight rebounds, also scraped seven loose balls off the glass to lead the Wolfpack to a 38-to-23 rebounding advantage. To make matters worse for Grandview, Blodgett and teammate Darian Gasseling each came away with six steals, which led to the Lady 'Hounds coughing up the ball 23 times total last night.
"We knew ahead of the game we would have to keep Blodgett out of the paint," said Gibb. "But she just outran us."
Besides the 30 points Blodgett tossed in, Wapato got double-digit scoring performances from Gasseling and Lexie Gomez, who fired in 12 and 11 points, respectively.
Team-wise, the Wolfpack shot at a blistering 54 percent rate from the floor, going 30-for-56. Only three of those field goal attempts came from outside the 3-point arc. Wapato was just as impressive from the charity stripe, knocking down 13-of-17 free throws.
"Wapato came out to prove a point," said Gibb. "And they proved it."
Tuesday night's win keeps Wapato unbeaten on the season, at 5-0 in CWAC play, 8-0 overall.
Grandview, which has now dropped two of its last three games, slips to 4-3 in league action, 6-3 overall.
"We made a lot of silly mistakes," said Gibb. "There was a lot we can fix."
The Lady Greyhounds' undoing, besides coming away with 15 fewer rebounds than Wapato and committing 10 more turnovers than the visitors, was their inability to get the ball to drop through the hoop.
Grandview put up more than a third of its 45 shots from the field from behind the 3-point arc, only connecting on two of those long range bombs. All told, the Lady 'Hounds went 11-for-45 in field goal attempts. The home club fared no better from the foul line, making just 3-of-12.
Another telling stat that played a part in Grandview getting blown out of its own gym was the defensive pressure applied by Wapato against arguably the Lady Greyhounds' top player and scorer this season, Payton Parrish. The Wolfpack limited Parrish to taking just two shots, both of which she came up empty on. Uncharacteristically, the junior Parrish, the tallest girl on Grandview's team at 5-10, also got blocked out just about every time she stepped into the paint. By night's end, she was only able to gather in four rebounds.
"Wapato did a good job doubling on her," said Gibb. "Whenever she had the ball there were three or four people around her."
The one Lady 'Hound who found any success at all in getting the ball to tickle the bottom of the net was sophomore Breanna Lopez. She was 3-for-7 from the field in canning a team-best 8 points. Sophomore Marissa Caballero added a 6-point effort for Grandview on spotty 3-for-9 shooting numbers.
Wapato took control from the outset last night, sprinting out to a 21-5 first-quarter lead. Any thoughts by the Grandview faithful that the Lady 'Hounds might scrape their way back into the game dissipated in the second period, as Wapato added on a 23-9 scoring burst to take a commanding 44-14 lead into halftime.
"We knew there would be speed bumps along the road this season," said Gibb. "This was a speed bump. We need to take the positives from the game and build from them, and take the negatives and fix them."
Grandview will have a week's time to reflect, and polish its game, before retaking the court. The GHS girls' next game isn't scheduled until next Tuesday, Jan. 10, at home against the Ephrata Tigers, who dealt Grandview its first loss of the season, via a 53-51 score, back in early December.