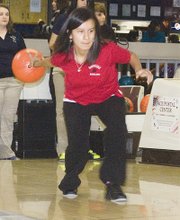 The Sunnyside Lady Grizzly bowling team scored a convincing 4-0 sweep over visiting Ellensburg yesterday and, in the process, may have taken a step toward the District playoffs.
In Tuesday's game one victory, Adriana Lopez bowled a 159 to power the Lady Grizzlies to a 715-691 win over the Bulldogs.
Other scorers for Sunnyside in game one were YaYa Gonzalez (113), Amanda Villarreal (143), Veronica Alvarez (155) and Johanna Chumley (145).
Ellensburg's game one scores were Sarah Haberman (133), April Grow (121), Christina Burright (138), Shanielle Bennett (156) and Shilo Epenesa (143).
Villarreal tipped game two in Sunnyside's direction, as in the third head-to-head match-up she outscored Burright 177-to-99. The Lady Grizzlies went on to a 713-670 victory in game two.
Game two scores for Sunnyside also included Alvarez (132), Gonzalez (109), Lopez (135) and Chumley (160).
Other Ellensburg scores in game two were Haberman (124), Bennett (127) and Epenesa (167).
Sunnyside iced its 4-0 sweep by winning both Baker games, 125-112 and 117-95.
A pair of Lady Grizzly keglers topped the two-game 300 mark yesterday, Villarreal (320) and Chumley (305).
Epenesa (310) was the lone Bulldog to reach the 300 mark.
The win improved Sunnyside's season mark to 4-6 and gives the Lady Grizzlies hope for the postseason.
"This may have been the win that takes us to Districts," said Sunnyside Coach Tina Peabody.
She noted the Lady Grizzlies' playoff fate depends on how Pasco does this week.
Sunnyside is home at Valley Lanes again tomorrow, Thursday, to take on visiting Kennewick.
In JV action yesterday, Sunnyside bested Ellensburg 4-0, led by a two-game total of 286 posted by Gaby Sanchez.