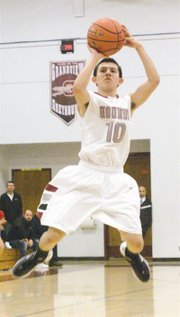 GRANDVIEW - Last night's basketball game between Grandview and Wapato came down to the final basket, which gave the Wolves the 56-54 victory.
The Greyhounds (5-2, 5-4) appeared in the opening quarter to have the edge, having a 17-12 lead.
The Wolves, however, battled back and with only a couple minutes in the opening half gained a 23-22 advantage off a few well-placed baskets.
Grandview was having difficulty stopping the momentum, allowing Wapato to end the second quarter with a 32-26 lead going into halftime. The Wolves outscored Grandview 20-9 during that quarter.
The 'Hounds knew they were capable of whittling away at the Wolves' lead. Grandview returned to the court with new fervor in the third quarter and outscored Wapato 13-12, narrowing the lead to five points.
The game was decided in the final stanza. Grandview picked up the pace and outscored the Wolves 15-12, but the effort wasn't enough. Wapato's final 2-point basket decided the game, giving the Wolves a 56-54 victory.
Disappointing, too, for the 'Hounds was their inability to get the 3-point shots to fall into the basket. Grandview made 16 attempts, but only five of those shots made it through the net.
Two of those baskets were made by Kiki Mendoza, who led the Greyhounds with a total of 15 points.
Teammate Hector Godinez, who scored eight points, was able to score on two shots from beyond the 3-point line, as well. He scored eight points overall.
Godinez was responsible for four assists and snatched the ball from the boards four times.
The Wolves were able to get seven 3-point baskets on 14 attempts.
The Wapato charge was led by Shawn Craig, who scored 21 points, including two baskets from beyond the 3-point line. He was also able to sink three shots from the charity stripe.
Craig also led his team on the boards, taking the ball from the Grandview glass six times and giving his team a second chance on offense one time.
Grandview had 11 opportunities to score from the free throw line, but was only able to sink three of those shots. Two of the free throws were scored by Brandon Curtis, who was fouled enough times to have seven attempts from the charity stripe.
He was a force for the Grandview defense, grabbing the ball from the glass five times. Three of those balls were at the Wapato basket.
Grandview's Sal Escobedo scored 13 points and grabbed five balls from the glass.
The leader in assists for Grandview was Isaiah Ruiz, who shuffled the ball to his teammates 11 times. He also recorded three steals.
The Greyhounds return to the hardwood on Tuesday, Jan. 10, when they host Ephrata.