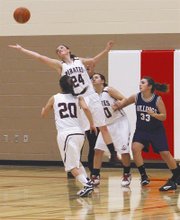 BICKLETON - The Bickleton Lady Pirate basketball team took control from the get-go last night, Wednesday, in opening its regular season with a 42-23 win over the visiting Pasco sophomore team.
The Lady Pirates went on a 15-0 surge in the first quarter and built a convincing 25-6 lead at the half.
With the outcome decided, the young Bulldog squad found its footing in the second half, matching Bickleton point-for-point as both squads tallied 17 points.
Lady Pirate Coach Emily Barnhart was pleased with her team's performance overall, but felt her squad could have done better in the second half.
"We missed more easy shots in the second half than I would have liked and made some poor passing decisions," Barnhart said. "But, all things considered, I think we played our first game of the season well."
Jamie Venema paced the Lady Pirates with a double-double, scorching the net for 17 points and hauling down 19 rebounds.
Teammate Lindsay Brown also posted a double-double, tallying 15 points and climbing the ladder for 13 boards.
Barnhart was also pleased with the performance of two new players, Annie Lindsley - who has not played basketball prior to this year - and eighth grader Heather Goodnight, who scored four points for Bickleton.
Pasco was led by Erika Benitez with 10 points.
The Lady Pirates return to action tomorrow, Friday, when they open league play at Trout Lake-Glenwood.