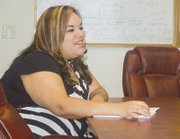 For two days a week, Tuesdays and Thursdays starting on Jan. 17, the Sunnyside Community Center will be open from 10 a.m. to noon for seniors to exercise and socialize.
The hours were set by a small group of seniors who met with Catrina Salazar to discuss the "Silver Sneakers" program. Salazar, the Sunnyside Community Center Facilitator, called this past Wednesday morning's meeting to get input from seniors on the time and type of programs the community center should offer.
Discussion started with the observation that currently seniors have no regular exercise opportunities in town. Mention was made of the uneven sidewalks in some areas of town that make it difficult for seniors to walk for exercise.
As an initial program, Salazar suggested simply opening the gym for walking, with the lobby available for socializing and light refreshments. In the future, new programs can be added depending on interest from the community.
Some suggestions for possible programming included using the projector or a television to provide video instruction, such as low-impact workouts or chair-based exercises. Music was also suggested as a backdrop for walking laps in the gym.
The future of the program will depend on the amount of participation from the community. For more information, call the community center at 837-2205.
Laura Gjovaag/Daily Sun News
Catrina Salazar listens to suggestions from attendees at the Silver Sneakers meeting. The group decided to start with free two-hour exercise sessions on Tuesdays and Thursdays.