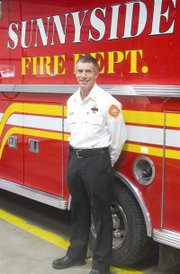 Graduating magna cum laude for Sunnyside Fire Chief Aaron Markham is icing on the cake.
Markham was named the Sunnyside Fire Department interim chief in 2004 and officially became the fire chief Jan. 1, 2005.
In the winter of 2005 he decided to go back to school.
"I did some research on universities that had Bachelor's degrees in fire services administration," he said. "Eastern Oregon University had an online program that met my needs."
This past winter Markham graduated magna cum laude from Eastern Oregon University.
Going back to school was an easy choice for Markham. He has been working towards furthering his education and increasing his on-the-job skill sets since his time with Sunnyside.
Markham says through his career, a Bachelor's degree is becoming a requirement for future job opportunities.
"My reason for pursuing my education is because of the possibility of working for a larger fire department in the future," he added. "Looking through job announcements and requirements...a Bachelor's degree is becoming the norm... and will put you at the top of the list."
Markham figuratively packed his bags and headed back to school in order to reach his goal and bring more knowledge to the Sunnyside Fire Department. Graduating magna cum laude, however, was an added bonus.
"I was pretty surprised (to graduate with honors)," he said. "When I was in high school I know I didn't put in all the effort I could have."
He says a motivator for doing well in college is the bill.
"Since you're paying for your schooling, you seem to have a greater desire to do better on your school work," he added.
With several community college credits already on his resume, he enrolled at Eastern Oregon University with junior class status. Markham set his goals to take one class each term.
The lighter than normal class load was due to his still working full time and taking care of a family. Markham is also the vice chairman for the Yakima County Fire Chiefs Association and the 2012 Yakima County EMS and Trauma Care Council Chair. Somewhere in between he managed to earn his degree. To qualify for magna cum laude honors a graduate must have a cumulative GPA between 3.70 and 3.84.
For now Markham is taking a break from school.
"But I'm deciding on what my next steps will be."
Future plans for him include applying for the National Fire Academy.
Going to the academy would mean two weeks out of the year for Markham to meet and earn a broader perspective from several fire departments nationwide.
"I don't think (anyone) can ever have too much education," he added.