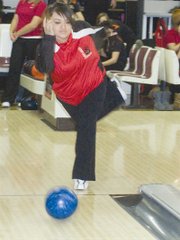 The Lady Grizzlies barely succumbed against the Kennewick Lions yesterday (Thursday) at Valley Lanes in Sunnyside.
With a four-game tie (2-2), the visiting Lions pulled out the victory with a greater total pinfall of 1714, that's just 60 pins ahead of Sunnyside's effort of 1654.
The Lions, who prevailed by a 4-0 score in the two teams' earlier match-up this season, started strong, winning both of the match-up contests, 723-668 and 742-669.
In winning efforts, Kennewick's Megan Weir and Karissa Shiflet both topped a two-game series of 300, scoring 340 for Weir and 338 for Shiflet.
Lady Grizzly Veronica Alvarez bowled Sunnyside's top two-series scores, 299 (145-154). Sunnyside's next top bowler was Amanda Villarreal, who finished with a two-game total of 280 (126-154).
Sunnyside's YaYa Gonzalez, Johanna Chumley and Adriana Lopez finished with two-game totals of 247, 275 and 236, respectively.
The Lady Grizzlies attempted to turn around the match, winning the two Baker games, 179-112 and 138-137. In Baker bowling, each member of the five-girl squad alternates taking turns throughout the 10-frame contest.
The Kennewick Lions' win over Sunnyside takes the Lady Grizzly overall record on the season to 4-7.
In JV action this past Thursday, the Lady Grizzlies took home the win, 3-1.
With just two regular-season matches to go, the Lady Grizzly bowling squad is set to compete at Pasco on Tuesday, Jan. 10.
John Fannin/Daily Sun News
Senior Veronica Alvarez warms up before competing against the Kennewick Lions yesterday (Thursday) at Valley Lanes in Sunnyside. Alvarez had the top two-game series for the Lady Grizzlies.