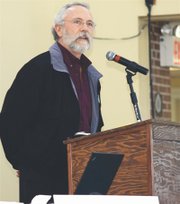 Washington state is third in the nation for producing specialty crops.
That's according to Washington State Department of Agriculture Director and Sunnyside area resident Dan Newhouse.
"Our (agriculture producers') contribution to our state economy is almost exactly the same as the aerospace industry, which is a full 12 percent contributed to our state economy," he added.
But with an economic downturn still in full force, Newhouse warned growers (attending the annual Simplot Growers Meeting on Thursday) at the Yakima Ag Expo that possible cuts are in store for the Washington state agricultural producers.
The state legislators go back into session next week, according to Newhouse. Possible cuts for the ag industry include the domestic marketing program, attention and funding towards the control of weeds and funding for local fairs.
"We're a small state agency (the department of ag) but we have to take our share of cuts as well," Newhouse said.
He said the state department is also working towards increasing export numbers while fighting through the state mandated cuts.
The most important thing local growers can do, says Newhouse, is communicate with Washington state legislators.
Newhouse added a positive note to his speech, saying next year (2013) marks the 100th birthday of the Washington State Department of Agriculture. Plans to celebrate are in order, using the celebration as a spring board to celebrate the entire agricultural industry.
"The success of the ag industry has been constant and stable," Newhouse said.