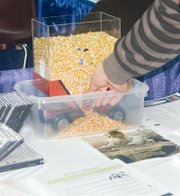 YAKIMA - A group of farm workers crowded into the booth at the Yakima Ag Expo Thursday afternoon to listen as Pablo Palmandez explained how the health hazards of pesticides can be reduced using simple ideas and methods field-tested at farms around the state.
As examples, Palmandez showed an ammo box that can be used to hold emergency eyewash and a bucket pre-marked with correct measurements for a pesticide mix. Another example showed how well a pressure-washer cleaned pesticide off a wall compared to a brush, using a fluorescent tracer to show the remains left from each method.
Palmandez is a research coordinator for the Pacific Northwest Agricultural Safety and Health Center. The center has just produced a new booklet that shares 24 ideas on how to deal with pesticide safely. The publication, "Practical Solutions for Pesticide Safety," is available in both English and Spanish at the center's website at http://depts.washington.edu/pnash.
The Pacific Northwest Agricultural Safety and Health Center is a research organization that identifies safety issues in agricultural workplaces and searches for solutions through field work, interviews and testing. The results are promoted throughout the industry, and have helped reduce death and injury in the state from agricultural accidents.
The pesticide safety booklet is the result of a five-year study involving farmers from across the state, including the Yakima Valley. According to manager Marcy Harrington, the study involved 25 farms and 95 growers. The research group visited farms to see what methods were already being employed as well as determining safer ways to handle pesticide through research.
The booklet includes the solutions to common problems that can lead to contamination in workers who mix and load pesticides or decontaminate equipment. Pesticides can have long-term health effects on people exposed to them, and reducing exposure can save lives.
The Pacific Northwest Agricultural Safety and Health Center also has a variety of other educational material available to farm workers and their families. Many materials are available on their website, including an audio library with lessons on important safety issues and personal stories about agricultural accidents and the impact they had on workers and their families.
For more information, people can visit the center's website or contact the center at pnash@uw.edu or 1-800-330-0827.
Laura Gjovaag/Daily Sun News
An effective demonstration of the dangers of flowing grain shows two LEGO men being pulled to the bottom of the wagon as grain is let out.