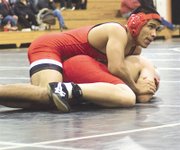 Things started a bit shaky for the Sunnyside High School wrestling team last night, dropping the first three bouts of the night to the Eastmont Wildcats to fall into a 12-0 hole. The Grizzlies, proving their mettle, stormed back to win 10 of the final 11 match-ups, however, to secure a solid 49-15 team victory.
"I knew they were going to get a little bit of a run at the beginning," said SHS Coach George Paulus, noting the first three wrestlers Eastmont put on the mat are among the elite that the Wildcats feature this season.
To his surprise, and delight, Paulus received a couple of strong performances from his own wrestlers in two of those three bouts. Ramon Hernandez, at 160 lbs., hung tough with Berlie Walker before dropping a 5-0 decision; and Carlos Avalos, at 182 lbs., kept it close against Kyle Hoffman before succumbing 6-2.
Paulus said both Hernandez and Avalos were beaten handily earlier this season by Walker and Hoffman, but last night both Grizzlies proved they are making great strides in their personal development. Paulus said he was especially pleased with Avalos, noting the 182-pounder wrestled much more open and aggressively than the first time around against Hoffman.
In winning 10 of the 14 individual match-ups against visiting Eastmont Thursday evening, one of those victories really stood out. It came at 145 lbs., where Isidro Ramirez notched a 5-3 decision against Wildcat Aly Valdovinos. Paulus said Valdovinos, a transfer from Brewster to Eastmont this school year, was the 1A State tourney runner-up last season.
"For us, it was the match of the night," said Paulus. "Isidro wrestled a tough, technical match, which is what it's going to take for him to do well once we get into the postseason."
The first of Sunnyside's 10 winners last night was 195-pounder Miguel Guzman. Leading 7-1 at the time, Guzman pinned Eastmont's Christian Lockman midway through the second period.
SHS sophomore Austin Carman got a bit sloppy on his feet in the opening period of his 220-lb. bout against Josh Dekorte, and gave up two takedowns. Trailing 4-3 to Dekorte, Carman gained the upper hand when he opened the second period in the up position. He eventually turned the Wildcat onto his back, scoring a fall at the 3:26 mark.
First-year wrestler Michael Cornwell, a senior, followed with a pin in the 285-lb. match. Cornwell took Eastmont's Keegan Sommers to the mat in the opening period, then turned him with a half-nelson and registered a pin just 45 seconds after the opening whistle.
At 113 lbs., Sunnyside's Jesse Barajas pinned Ryan Javier 34 seconds into the bout. Paulus normally wrestles Barajas at 106 lbs., but gave him a break from having to cut weight.
Grizzly teammate Santos Guerrero, at 120 lbs., despite only winning by a 6-4 score, was in control of his match against Eastmont's Christian Hernandez the entire way.
Nathan Gonzalez of Sunnyside, who moved down from his normal weight class of 132 lbs. to 126 last night, was impressive in decisioning Michael Preston 11-1. Gonzalez scored one near fall in the match. Paulus said he is transitioning Gonzalez into being his 126-pounder for the postseason run.
Sunnyside got another win at 132 lbs. from Christian Ruiz. He blanked Guillermo Alvarado, 7-0. Paulus said Ruiz dominated the action throughout.
Sunnyside's Isaac Guerrero, at 138 lbs., also wasn't challenged last night enroute to pinning Dante Weigel, the fall coming in the second period.
The Grizzlies' final victory of the night came from David Vidales at 152 lbs. Vidales made short work of Jesus Mendoza, pinning the Wildcat at the 1:16 mark.
Besides the two victories picked up by Walker and Hoffman early on last night, Eastmont came out on top in two other matches. At 170 lbs., Darin Hargrove pinned Sunnyside's Sam Romero in 30 seconds; and Fabian Wickham, at 106 lbs., notched a 6-0 shutout against Grizzly Homer Romero.
Paulus said he wasn't disappointed in his 106-pounder's loss, considering Wickham placed third at the 3A State tournament last season. "Actually, Homer did a pretty good job last night against him," said Paulus.
Sunnyside, now 4-0 in 3A CBBN action, next competes at Kamiakin on Thursday, Jan. 12.