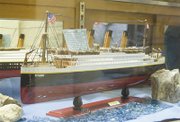 Astor and Guggenheim were just some of the names of the more than 1,500 people who perished in the sinking of the Titanic.
This April will mark the centennial of the famed ship's sinking, and the Sunnyside Museum is hosting an exhibit to mark the occasion.
"It's just so unusual, how the ship was built and that it was supposed to be the most beautiful and safe ship in the world," says John Saras, president of the Sunnyside Museum's board. "You have all these people who thought they were traveling securely."
Saras said the museum board has long had its eye on doing something for the Titanic's centennial.
"We wanted to do a display, but didn't think we had enough," he said of the books and miniature scale model the museum had for the Titanic.
That's when Jim Weber of Sunnyside lent a hand by loaning his Titanic memorabilia to the museum for display.
Weber, former co-owner of the Blue Goose Restaurant in Prosser, loaned his collection that includes White Star line tableware and a piece of coal from the ship.
Saras says the museum is hoping to host a Titanic open house on Sunday, April 15, the 100th anniversary of the ship's sinking. "We'd like to offer hors d'oeurves and maybe some wine," he said.
Between now and then, though, Saras said the museum could use help from volunteers in preparing for the event, as well as those interested in loaning Titanic memorabilia.
For more information, or to help, call Saras at 837-2105.
The Sunnyside Museum is currently closed for the winter months, but private tours of the museum are available by calling Saras.