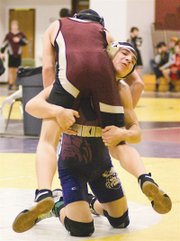 GRANDVIEW - A total of six Grandview grapplers earned a spot in the championship round of the Grandview Winter Classic this past Saturday, giving the Greyhounds runner-up honors to Kiona-Benton.
Grandview scored 126 team points and Ki-Be earned 164.5 points for the team title.
Mabton earned fifth place honors with 90 team points.
Three Greyhounds won their championship matches, three earned runner-up honors and two earned third place honors.
The Vikings had one titlist, Emilio Mireles (152 lbs.).
Grandview sophomore Juan Tzib dropped a weight class to wrestle at 113 lbs. this past Saturday. He won the championship title over Emiliano Rodriguez of Mabton. The victory came as a result of a pin in 3:18.
Tzib had a bye in the first round of competition, and pinned Seth Garcia of Ki-Be in the semi-finals in 3:34.
Viking Coach John Kilian was pleased with Rodriguez's performance against Tzib, stating it was exciting to watch.
Also winning a championship was sophomore David Castaneda (126 lbs.) of Grandview. The 'Hound opened the tournament with a bye and pinned Tanner Stahl of Mt. Si in 1:12 in the semi-finals. The final match for Castaneda was against Mabton's Vicente Mireles. Castaneda prevailed by a 3-2 decision for the title.
In the 138-lb. weight class Joesiah Saunders of Grandview prevailed for the title. The sophomore didn't have an opening bout and pinned Aaron Peterson of Mt. Si in the semi-finals. He secured the title after a dual with Nick Burton of Henry Foss. The final victory was earned by pin in 4:41.
"Joesiah started a bit slow in the finals, but got things going in the second period and then put Burton away in the third period," said Grandview Coach Jeff Sevigny.
For Mabton, Mireles dualed with teammate Fabian Ruiz in the championship round. Mireles prevailed 11-7 for the title.
Kilian said Ruiz began the bout strong, leading by four points in the second round of the match. Mireles, however, rallied to put Ruiz on his back twice.
"One of the downfalls of our team this year is that two of our best kids have the same ideal weight," said Kilian.
Also making it into the finals for the 'Hounds was Fidel Medina (106 lbs.), Jaron Raymond (132 lbs.) and Eduardo "Sid" Alcantar (145 lbs.).
Medina won his first two matches with quick pins, 57 seconds and 54 seconds. In the finals, he dualed Andrew Hahn of Henry Foss, who placed fifth at the 2010 4A State competition. Hahn won the Grandview Winter Classic title with a 17-14 decision.
"The match was very high scoring and if not for a couple of mistakes, Fidel would have come out on top," said Sevigny.
Raymond, a junior at Grandview High School, suffered a severe injury last year. As a result, Sevigny is pleased he was able to secure runner-up honors in his weight class this past Saturday.
"Jaron Raymond wrestled well and is still improving with each match," the coach said.
Raymond defeated teammate Alex Soberanes in the second round of competition by a 10-4 decision after having a bye in the opening round.
He had what Sevigny referred to as "a tough draw" in the final and was pinned in 2:24 by Ki-Be's Matt McCallum, who is a three-time State medalist.
Also earning runner-up honors for the 'Hounds was Alcantar, who returned to the line-up last Thursday after recovering from an injury.
"His return has been more than what we could have expected," said Sevigny.
"Sid won a close match to open the tournament with a 4-3 win over Seth Mataarazzo of Kiona Benton and then cruised to a 16-5 win in the semis," said Sevigny.
The semi-final bout was against Jonathan Thomas of Henry Foss and provided Alcantar the opportunity to battle Preston Baich of West Valley, who earned third place honors at 3A State last year. Baich earned the title by pin in 1:23.
"As Sid continues to get back into wrestling condition, he should continue to impress," said Sevigny.
Another Viking to earn runner-up honors was 160-pounder Brandon Marquez.
He led 5-3 late in the third round of the championship bout, but opponent Stephen Camden of Washougal rallied for a 7-5 victory and the title.
"Brandon had the match won, but didn't quite finish," said Kilian.
Earning third place honors for the Greyhounds was Harley Hurst in the 126-lb. classification and Alex Soberanes in the 132-lb. division.
Hurst lost the opening match, but won three matches to earn the consolation championship bout victory. He pinned Josh Thompson of Ki-Be in 2:54 in the 3rd/4th place bout.
Soberanes dropped into the consolation bracket after falling to Raymond. Soberanes had already earned a 16-14 victory over Miguel Cardenas of Hanford in the opening bout.
In the consolation semi-finals, Soberanes defeated Brandon Casteel of Washougal by a 12-5 decision. He battled Cardenas again in the consolation finals for a 18-16 decision.
Kilian was pleased with how well his team fared, considering Mabton is a 1A team battling the larger schools at the tournament.
"It was a good day, we got in with some bigger schools and hung right in there," he said.
Grandview returns to the mat at Ephrata this coming Thursday.
Mabton travels this Thursday to Cle Elum for a double dual against the Warriors and Highland.