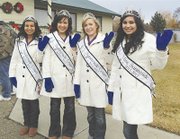 The 2011-12 Miss Sunnyside court will be sponsoring "Princess Prep" in cooperation with Sunnyside's Promise.
The community service project will help youngsters learn self-assurance through various sessions in honing a talent, learning how to walk for a pageant, learning the importance of introducing one's self, decorating crowns and practicing for a production of their own.
There will be three 3-week sessions, lasting six days each. The final day of each session will be a "Princess Prep" performance/pageant for parents, family members and friends of the participants.
To participate in the program, youngsters need only contribute two non-perishable food items and $5, as well as a completed waiver form.
The first session, beginning Monday, Jan. 23, is for first and second grade girls. The session will be every Monday and Tuesday through Feb. 7 from 4-5 p.m. at the Sunnyside Community Center.
Third and fourth grade girls will participate in the second session, which is slated to begin Monday, Feb. 27. The sessions will be from 4-5 p.m. each Monday and Tuesday through March 13 at the community center.
Beginning Monday, March 19, girls in fifth and sixth grades will be provided the opportunity to participate in a 3-week session that ends April 3. The Monday and Tuesday schedule is from 4-5 p.m. at the community center.
Admission for each performance will be one non-perishable food item per person.
Forms for participation can be picked up and dropped off at the Sunnyside High School office or the Sunnyside Chamber of Commerce, located at 451 South Sixth Street.
For more information, contact Teri Alvarez-Ziegler at 831-6665 or 837-2601 ext. 6128. Email her at Ziegler@embarqmail.com or find her on Facebook.