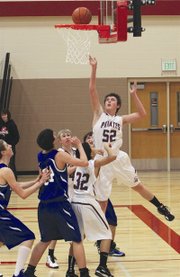 The Pirates had a rough weekend, losing one of their top players along with their first two league games.
In Friday's game at Trout Lake, Bickleton lost a close one. The Pirates took an early lead, going up 14-7 in the first quarter and getting outscored 13-12 in the second to maintain a six-point lead going into halftime.
"I am really proud of the way this team played," said Coach Jerry Roberts. "They did everything but win the game."
Bickleton lost the lead in the third quarter, but kept it close until losing three starters in a row. Peter Clinton was knocked backward and hit his head, leaving the game with a concussion. His prognosis is uncertain, but the team hopes to have him back in a couple of weeks.
After the loss of Clinton, another player fouled out before Justin Roberts left the game with a muscle injury.
"It was like bam! bam! bam! for us," said Coach Roberts. "It was a very physical game that escalated farther than it should have but we learned a lot about our team."
Roberts led the team in scoring with 17 points. Jayjay Bates put in 13. The Pirates shot 33 percent from the field but only 23 percent from the charity stripe.
A bright spot was Taylor Brown, who scored only four points but got 21 rebounds.
"Taylor Brown's rebounding really helped us keep their attempts to a minimum and control the boards," said Coach Roberts. "It is the best game we have played so far and with improvement ahead of us, I am excited to see the future."
The Pirates kept the game within four points until the final minutes, when intentional fouls resulted in a wider divide, with Trout Lake eventually prevailing 52-41.
An exhausted team faced Lyle at home on Saturday without one of their starting point guards, and were defeated 61-31.
"We have no excuses," said Roberts. "It was a low energy game. We just didn't play well."
Bates led the team with 11 points, and Brown had a more modest 10 rebounds in the game.
Bickleton (0-2, 2-6) takes on the Zillah C squad tonight, Jan. 9, at home.